Home > Diving Mexico > Mexico Dive Tours
Baja Whale Watching
Baja, Mexico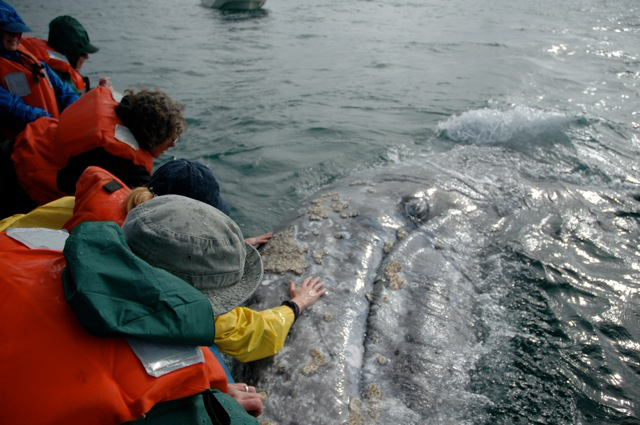 There is no experience in the world like looking a wild whale in the eye, then reaching out and gently rubbing her face while she lays on her side with her pressed against the side of our small launch. You can count the hairs that sparsely dot her face like whiskers on an adolescent teenager.
Whale watching brings people and whales together and promotes awareness of the dangers that the different whale species face today.
Whale watching at Loreto:
This is where we do our Blue whale watching. We generally leave the dock at Loreto at 8:00 a.m. and return anytime from 1:00 to 4:00 p.m. depending on local conditions. What can you expect in a day of whale watching here? We plan to see Blue whales and Finback whales the world's two largest species. We usually see dolphin, sometimes in huge pods of hundred or even thousands of dolphins. We see other whales too on occasion including Humpbacks, Bryde's whales and Orcas. We are out on the open sea and weather is a big factor in our day to day activities here.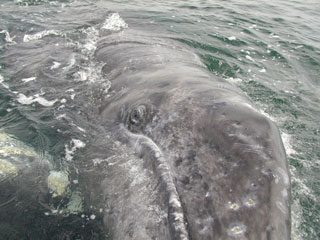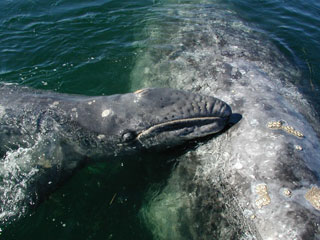 Gray whale watching:
We go to three different locations, so read the trip descriptions and itineraries carefully.
Laguna Ojo de Liebre (formerly Scammon's Lagoon) is our choice as the number one location for the all around whale watching experience. It is also the most remote and so has the longest road travel times.

San Ignacio Lagoon is much smaller than Ojo de Liebre, so there is more boat pressure on the whales who hang out there and this makes San Ignacio our number 3 choice. It is also remote and has a long rough road travel time.

Magdalena Bay the location with the shortest drive times and nicest accommodations, has fewer whales, but still provides the opportunity to experience the same Friendly Gray Whale Encounter as the other two locations. After all you cannot say hello to 1,000 whales on a 2 hour boat ride.


Whale watching in Ojo del Liebre Lagoon in Baja California Mexico in February 2014

by Paul Statham
Accommodations:
These vary from location to location. Generally we stay in clean, relatively simple motel style accommodations. All have private hot water bathrooms with showers. If you are a traveler who must have style and luxury, talk to us about the upgrades that are possible.
New! Whale watching with a wonderful Africa Tented camp experience, read Baja Whale Watching Safari for more details.
Meals:
Generally breakfast and dinners are eaten at local restaurants. We believes that part of traveling to a foreign land is the experience of trying various local food. Where possible we eat in several different restaurants day to day. Lunch is either a picnic buffet style or boxed or brown bag style lunch. We do our best to make lunch a satisfactory meal. We can accommodate most special diets if we know ahead of time.
Whale watching:
This is our focus and our reason for being in business. We do our utmost to provide the best possible whale watching experience. Our staff is highly experienced in Baja whale watching.
Group size:
Groups are small, normally 9 to 12. Sometimes we have two separate groups that are in the same location at the same time. For instance when a 5 day gray whale group is in Guerrero Negro and then a combo group arrives there for their gray whale portion. We have two 15 person vans that generally carry 10 passengers. Normally one van is assigned to one group. On rare occasions we will use two vans for a slightly larger group.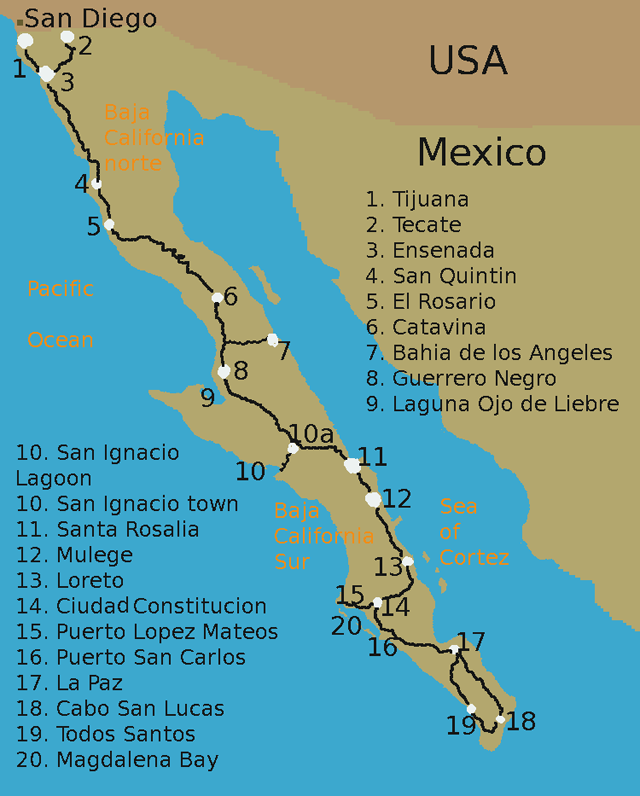 For more information
Contact:
Dive Discovery
@
1 800 886-7321
(415) 444-5100
or
Request Info