Home > Diving Mexico > Mexico Dive Tours
Baja Whale Watching Safari - 2015
Baja, Mexico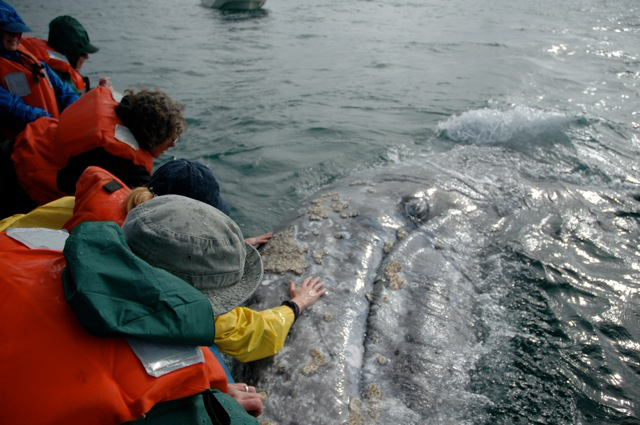 Baja Whale Safari Camp – on the shore of Laguna Ojo de Liebre
Fly in trips beginning in San Diego
2015 Baja Whale Watching Schedule
EARLY BIRD SIGN UP SPECIAL will evaporate and absolutely not be available after May & June 1st.
Before May 1 discount any trip 17%
Before June 1 discount any trip 10%
Gray Whale Safari Camp 3, 4, 5, 6 & 8 day FLY IN trips
Departure 3 times weekly from San Diego
Price $1,895 to $3,195 each
Flights departing every Monday, Wednesday and Friday
Flights returning every Monday, Wednesday and Friday
3 day trips $1,895
Mon. to Wed. or Wed. to Friday
4 day trips $2,495
Friday to Monday
5 day trips $2,695
Monday to Friday
6 day trips $2,895
Friday to Wednesday
8 day trips $3,195
Friday to Friday, Mon. to Mon., Wed. to Wed.
Combination Gray whale and Blue whale trips
February 5 -12 $2,895 (8 days)
Start point & end point is Cabo San Lucas (SJD) or La Paz (LAP) airport,
combination gray whales at Magdalena Bay and blue whales Sea of Cortez.
February 5 - 18 $4,295 (14 days)
start Cabo San Lucas (SJD) or La Paz (LAP) and end in City of San Diego, California, USA.
Upgrade hotel in Loreto add $500 P/P
February 11 - 20 $3,395 (10 days)
The World's Greatest Whale Watching Event sold out 7 years in a row.
Start point & end point is Loreto, B.C.S. (LTO) airport. Combination gray and blue whales.
Gray whales at San Ignacio, Laguna Ojo de Liebre and Magdalena Bay plus blue whales in the Sea of Cortez.
This is truly the greatest possible whale watching tour.
February 21 - March 1 $3,095 (9 days)
Start point & end point is Cabo San Lucas (SJD) or La Paz (LAP) airport.
Gray whales at Magdalena Bay and blue whales in the Sea of Cortez.
February 22 - 28 $2,795 (7 days)
Start & end point Loreto (LTO) Airport.
Gray whales at Magdalena Bay and blue whales in the Sea of Cortez.
February 23 - March 2 $3,395 (8 days)
Fly from & return to San Diego.
Gray whale watching at Laguna Ojo de Liebre and blue whales on the Sea of Cortez. Upgrade your Loreto accommodations $500 P/P
February 23 - March 4 $3,995 (10 days)
Fly from & return to San Diego.
Gray whale watching at Laguna Ojo de Liebre and blue whales on the Sea of Cortez.


Whale watching in Ojo del Liebre Lagoon in Baja California Mexico in February 2014

by Paul Statham
A few words about the Whale Safari Tented Resort - Punta Mariscal Tentel
A once in a lifetime event should be lived to the fullest possible. When designing our program we decided that after 20 years of "roughing it" the Baja style seaside camp idea needed a makeover. So we styled our camp in the manner of upscale African safari lodges. Our tented facility has absolutely the highest quality seaside whale watching accommodations on the Baja Peninsula. Many fine Baja hotels don't have all the amenities nor offer some of the special services that we provide at our tentel.
How is staying at our seasonal Tentel different from other Baja tours and camps? Consider that no other tent camp or cabana camp tour has any of the amenities listed below.
Largest tents in Baja 10 feet X 14 feet. Amenities include carpeted floors.This is the size of many suburban bedrooms.
Huge 20' X 40' heated dining tent, the only heated dining room in Baja.
The only room service available at any shore side whale watch accommodation in Baja.
Private candlelight, waiter serviced dinner at the shore's edge. Champagne & lobster dinner.
The only tented or cabana lodge with beds, sheets, comfy fleece blankets and soft comforters.
Beach sized towels, plus on demand hot water showers, fleece robes and slippers
Real flush style toilets
Nightly complimentary coffee/tea in room service
Ultra secure camp is located 10 miles inside a single guarded gate access point.
Laundry service available
Superb wine, beer & tequila tasting packages for those who want to experience the best of Mexican fine dining and drinks.
Espresso style coffee drinks available. No better coffee anywhere on the peninsula.
Hot water showers from a gas fired source, not a solar warmed bag of water.
Really excellent 4 star quality dining in The Happy Gray Whale Restarante.
Espresso coffee, a full bar, snacks of all sorts available in the Ballenata Gris Cantina.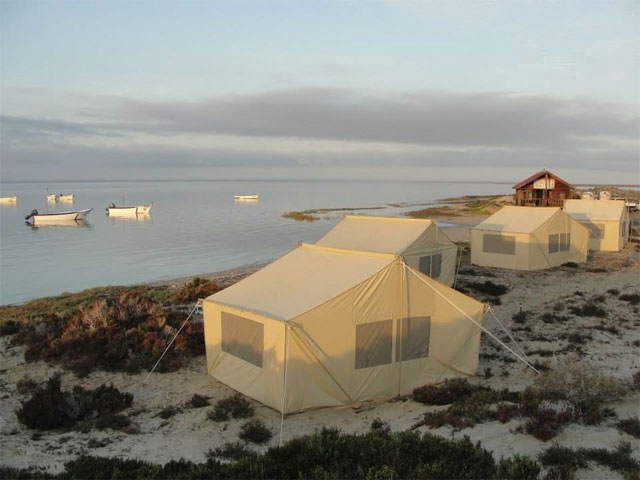 Room service in a camp? Yes really, why not? Why should you suffer snack withdrawal just because you're in a remote shore side location hundreds of miles from the nearest city? Having late night hunger pangs? Our room service menu is open until 10:00 pm. Our staff will bring a table, tablecloth, a complete meal set up if that's what you order. Or we'll deliver a simple sweet or salty snack.
The Happy Gray Whale Restarante - Menu [pdf]
Our tent interiors
We're rightfully proud of the comfortable and aesthetically pleasing interiors. We begin with the largest tents on the Baja Peninsula. Then we provide you with real beds, real mattresses with pads and fresh linens. You'll love our light, but warm fleece blankets. Get a chill? The quilted, soft comforters are sure to warm you through and through.
Nice rugs cover most of the floor area. Solar lights are set outside during the day recharging and then provide plenty of light in the evening. If you need direct reading light, your personal aide basket includes a battery operated headlight that puts out lots of direct light. A front porch provides a place to transition to the inside of the tent without dragging a shoe full of sand along.
Our dining tent and gathering hall
We have a huge 20 foot by 40 foot (house sized) military tent that houses our kitchen and dining rooms. This is where we all gather when we want to just sit and relax. If the weather is nice and warm we can open the entire bay side of the tent to provide an awesome vista of the bay and whales at play. When windy or cold the walls are down. In the morning and evening if needed we turn on the very efficient forced air burner to warm the room. We think this is the only restaurant or dining room anywhere in Baja that is heated. Games, books and other entertainment available in the Big Tent.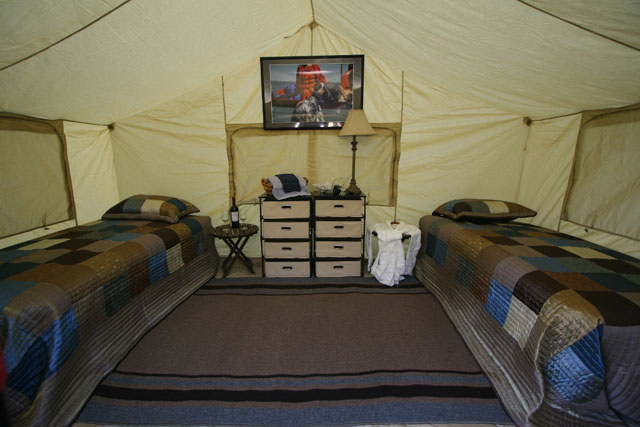 Some other information details about our whale watching program.
1. We do our whale watching in protected lagoons inside the Vizcaino Biosphere Reserve, A UNESCO world heritage site.
2. Our boat drivers and guides have dozens of years experience whale watching. Everyone of our staff is here because the whales mean something special to us. You must love whales to work for us. We now has 20 years Baja whale watching experience.
3. No other whale watching outfitter claims a perfect 100% success rate for 20 years of having whales approach all of our 5 and 6 day groups close enough to touch. Some think we make this up (but we have photo records back to 1998), others think we are just plain lucky! Yes we are lucky. But we are also focused on giving every client a great whale watching experience.
4. When landing at Loreto the drive time is approximately the same whether to the lagoon at San Ignacio or to Laguna Ojo de Liebre.
5. The weather pattern at Laguna Ojo de Liebre is perhaps less intense than San Ignacio, with morning wind unusual, but afternoon strong breezes likely and common. The wind typically dies down near sundown.
For more information
Contact:
Dive Discovery
@
1 800 886-7321
(415) 444-5100
or
Request Info