Home > Diving Mexico > Mexico Dive Tours
6 Day Kayak & Whale Watching Combo
3 x 3 Combo, 3 days of whale watching and 3 days of Sea kayaking in Baja, Mexico
Our most popular wildlife adventure in Baja combines sea kayaking in the Sea of Cortez with whale watching in Magdalena Bay, one of the major calving lagoons for gray whales. This is the ultimate Baja trip, combining one of the most incredible wildlife encounters on the planet (touching grey whales) - and sea kayaking through the magnificent beauty of Loreto Bay National Marine Park in the Sea of Cortez.
You'll stay three days at our exclusive whale camp located at a remote beach on a barrier island in the heart of gray whale activity. In addition to whales, the lagoon is home to dolphins, sea lions, pelicans, and thousands of shorebirds. Your guides will introduce you to the desert plants, birds and other wildlife of Bahia de Magdalena on our Baja whale watching tour.
Then head back over to Loreto for three days of Baja sea kayaking and camping on remote islands in Loreto Bay National Marine Park, where the surrounding water is a sanctuary for blue-footed boobies, fin and blue whales, dolphins and sea lions. The Sea of Cortez is a UNESCO World Heritage Site and offers the perfect blend of Baja kayaking, hiking and snorkeling. Abundant wildlife, massive whales, sunny weather and warm, crystalline waters make the Sea of Cortez one of the best winter adventure destinations in North America and Mexico.
With each of these tours, your first and last nights will be hotel-based in Loreto with an extra hotel night between kayaking and whale watching. While you will be responsible for booking your hotel stays before and after your tour, the hotel night in between activities is included in your tour cost. We recommend booking at the Hacienda Suites in Loreto, as this is where your orientation meetings and pick ups will be for your tour, but feel free to explore the varied and charming accommodation throughout Loreto.
All activities are led by naturalist guides, who dish out tasty chile relleno and margaritas in tented beach camps at days end. You'll bring home a lifetime of memories.
Magdalena Bay is sheltered from the Pacific Ocean by a barrier of desert islands. The sandy barrier islands protect the lagoons from oceanic currents, creating a fascinating environment of twisting mangrove-lined estuaries, chaotic sand dunes and blooming desert plants. January through March, hundreds of gray whales mate and bear their young in these protected waters after traveling over 5000 miles from the Bering Strait.
You can watch gray whales and their newly born calves up close from the safety of motorized skiffs in the deeper parts of the bay, where friendly whales swim up to the skiffs for a head rub! Breaching, spy-hopping and fluking, the whales will captivate your attention with their behavior and we guarantee whale sightings.
Jan 19, Jan 26,
Feb 2, Feb 9, Feb 16, Feb 23,
Mar 1, Mar 8, 2020
Adult: $1,550 Child: $1,450
Sea Kayaking
Whale Watching
Camping
Family Focus
Snorkeling
12 years, 9 years family trips
Loreto, Baja California /
Loreto, Baja California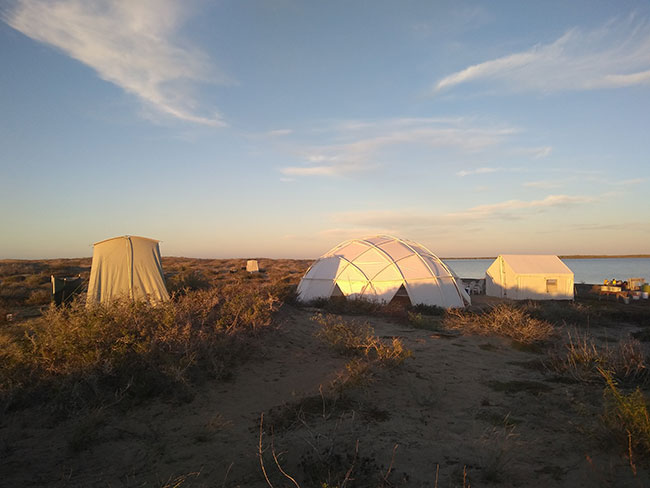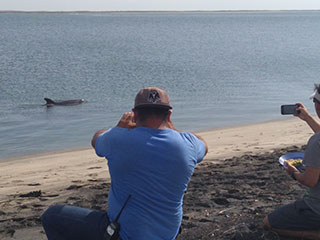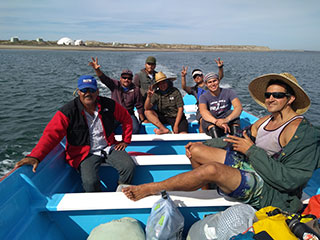 Notes on Itinerary:
Approximate paddling distances listed and can vary depending on group size and weather. We will do our best to adhere to the schedule listed above. However, the itinerary may change due to reasons beyond our control such as wind, waves or inclement weather.

We run this itinerary in both directions - in other words, your trip may start with kayaking and finish with whale watching, or start with whale watching and finish with kayaking.
Please Note: Although there is a very good chance we'll see whales and other marine life throughout the week, the frequency, proximity, and quality of sightings will ultimately be determined by the wildlife.
Itinerary
Day 0: Welcome to Loreto in Baja!
Upon your arrival in Loreto take a quick cab ride to your hotel and check into your room (Not included in trip cost). Spend your afternoon exploring the beautiful town of Loreto. You can tour the historic Mission located in the center of town, stroll through the local market and dine on authentic Mexican cuisine before meeting your guides in the Hacienda Suites hotel lobby for an evening orientation meeting.
Accommodations: Not Included
Meals Included: 0 (travel day)
Day 1: Whale Watching in Magdalena Bay
At 7:30am SHARP a van will arrive to transport you two hours to Puerto Lopez Mateos, Magdalena Bay on the Pacific Coast. Here you will have your first whale watching session as you take a federally-licensed skiff from Puerto Lopez Mateos out to Santo Domingo Island where Whale Camp is located. Upon arrival to camp you will have a chance to unload your gear and settle into your pre-assembled tent before sitting down to a hearty lunch. After lunch, your guides will lead you on a hike across the dunes of Santo Domingo Island to the Pacific Ocean where you can then meander down the beach back to camp for happy hour and dinner under the stars.
Accommodations: Camping
Meals Included: L, D
Day 2: Whale Watching in Magdalena Bay
Arise to the sounds of birds chirping and waves lapping the shore as coffee and tea are prepared to great you and the morning sun. Feel free to stroll along the beach, sip your coffee, and watch the whales as your guides prepare a hot breakfast. You will have two whale watching sessions by federally-licensed skiff today, with plenty of time for dune walking, hiking, and relaxing on the sand while whales frolic offshore. You can also elect to do birding tours in the mangrove areas of the lagoon instead of whale watching, or part whale watching, part birding sessions.
Accommodations: Camping
Meals Included: B, L, D
Day 3: Return to Loreto
You will enjoy one final two hour whale watching session after breakfast in the morning before returning to Puerto Lopez Mateo by skiff. Take a few minutes when returning to Puerto Lopez Mateo to explore the small local shops at the port and possibly purchase a commemorative token before heading out to enjoy a hot seafood lunch at a local restaurant. After lunch check back into the tour hotel (Hacienda Suites, Included in Trip Cost) for a shower or stroll along the waterfront malecon before your second orientation meeting, located in the lobby of the tour hotel, for the kayaking portion of your tour.
Accommodations: Hacienda Suites hotel
Meals Included: B, L
Day 5: Time to go kayaking
Please eat breakfast and be packed by the meeting time, where you will be shuttled to the kayak put-in site. After loading the boats, your guides will teach you the basics of paddling and thoroughly review safety procedures. The group won't leave shore until all participants feel comfortable. You'll make 50-minute, 2 to 3-mile crossings to the off-shore islands where you'll have a chance to snorkel and hike before lunch, and then kayak to your first night's campsite. Several campsites have desert arroyo hikes which offer spectacular views as well as some of the desert flora unique to Baja.
Accommodations: Camping
Meals Included: L, D
Paddling duration: 3-4 hours
Day 6: Kayaking in the Sea of Cortez
With the smell of coffee and hearty breakfast wafting through the air as you arise in the morning to get ready for a day of paddling. While paddling you will explore the scenic cliffs and coves of Isla Danzante and Isla Carmen. Opportunities for snorkeling, beachcombing, and hiking will be mixed into your day before you settle down at the next campsite for dinner and star gazing.
Accommodations: Camping
Meals Included: B, L, D
Paddling duration: 3-4 hours
Day 7: Return to Loreto
After a final breakfast, you will paddle to the take-out site and unpack your kayak while the guides prepare lunch. A van will return you to the hotel mid-afternoon to relax and clean up. In the evening, you are invited to join your group for an optional final farewell dinner (no host) to say good-bye and toast new found kayaking skills and friends.
Accommodations: Not included
Meals Included: B, L
Day 8: Departure Day
There are no scheduled activities today so you may depart Loreto at any time. Travel home or continue on another adventure such as one of our single day Trip Extension options.
Meals Included: 0 (travel day)
For more information
Contact:
Dive Discovery
@
1 800 886-7321
(415) 444-5100
or
Request Info