Home > Diving Mexico > Mexico Dive Tours
6 Day Kayak & Whale Watching Combo
3 x 3 Combo, 3 days of whale watching and 3 days of Sea kayaking in Baja, Mexico
Sea kayaking in the Sea of Cortez with whale watching in Magdalena Bay, one of the major calving lagoons for gray whales. This is the ultimate Baja trip! Combining one of the most extraordinary wildlife encounters on Earth (gray whales) and sea kayaking through the beautiful Loreto Bay National Marine Park in the Sea of Cortez.
Stay three days at an exclusive whale camp located at a remote beach on a barrier island in the heart of gray whale activity. In addition to whales, the lagoon is home to many other species: dolphins, sea lions, pelicans, and thousands of shorebirds. Your naturalist guides will introduce you to the desert plants, birds and other wildlife of Bahia de Magdalena.
Head back over to Loreto for three days of Baja sea kayaking and camping on remote islands in Loreto Bay National Marine Park, where the surrounding water is a sanctuary for many animals: blue-footed boobies, fin and blue whales, dolphins and sea lions. The Sea of Cortez is a UNESCO World Heritage Site and offers the perfect mixture of Baja kayaking, hiking and snorkeling. The Sea of Cortez is one of the best winter adventure destinations in North America and Mexico because of its abundant wildlife, enormous whales, sunny weather and warm, crystal clear waters.
With each of these tours, you will be responsible for booking your hotel stays before and after your tour in Loreto, however, the hotel night in between activities is included in your tour cost. You may want to consider staying at the Hacienda Suites in Loreto. This is where your orientation meetings and pick-ups will be for your tour.
Magdalena Bay is a series of lagoons that are sheltered from the Pacific Ocean. This is where the California Gray Whale mate and bear their young, January through March. Hundreds of gray whales' come to this protected area after traveling over 5000 miles from the Bering Strait.
On this tour, you can observe the gray whales and discover Magdalena Bay's diverse ecosystem: sand dunes, desert flora and mangrove-lined estuaries. Only ROW Sea Kayak Adventures has exclusive permission to camp on the island. This whale watching tour includes three or four-days at a safari-style base camp positioned on a secluded beach at the center of whale activity.
The area around the camp has the highest concentration of whales in Baja. Each day motorized skiffs take you to the deeper waters of Magdalena Bay, where whales swim up to the skiffs to say hello. You can watch the whales and their newly born calves up close and personal. On shore, guides will take you dune hiking, to the beach, and birding in mangrove channels - a hub for migratory shorebirds.
Jan 19, Jan 26,
Feb 2, Feb 9, Feb 16, Feb 23,
Mar 1, Mar 8, 2020
Adult: $1,550 Child: $1,450
Sea Kayaking
Whale Watching
Camping
Family Focus
Snorkeling
12 years, 9 years family trips
Loreto, Baja California /
Loreto, Baja California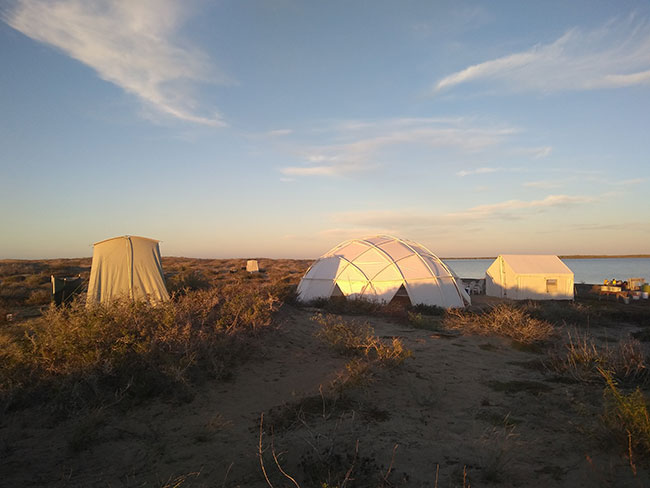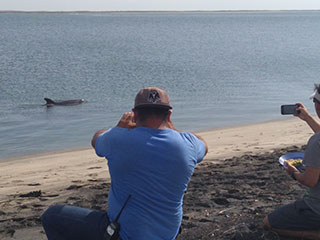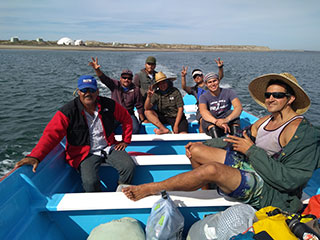 Notes on Itinerary:
Approximate paddling distances listed and can vary depending on group size and weather. We will do our best to adhere to the schedule listed above. However, the itinerary may change due to reasons beyond our control such as wind, waves or inclement weather.

We run this itinerary in both directions - in other words, your trip may start with kayaking and finish with whale watching, or start with whale watching and finish with kayaking.
Please Note: Although there is a very good chance we'll see whales and other marine life throughout the week, the frequency, proximity, and quality of sightings will ultimately be determined by the wildlife.
Itinerary
Day 0: Welcome to Loreto in Baja!
Accommodations: Not Included
Meals Included: 0 (travel day)
Day 1: Whale Watching in Magdalena Bay
Accommodations: Camping
Meals Included: L, D
Day 2: Whale Watching in Magdalena Bay
Accommodations: Camping
Meals Included: B, L, D
Day 3: Return to Loreto
Accommodations: Hacienda Suites hotel
Meals Included: B, L
Day 5: Time to go kayaking
Accommodations: Camping
Meals Included: L, D
Paddling duration: 3-4 hours
Day 6: Kayaking in the Sea of Cortez
Accommodations: Camping
Meals Included: B, L, D
Paddling duration: 3-4 hours
Day 7: Return to Loreto
Accommodations: Not included
Meals Included: B, L
Day 8: Departure Day
Meals Included: 0 (travel day)
For more information
Contact:
Dive Discovery
@
1 800 886-7321
(415) 444-5100
or
Request Info