Home > Diving Maldives > Maldives Liveaboards
MV Leo
Constellation Fleet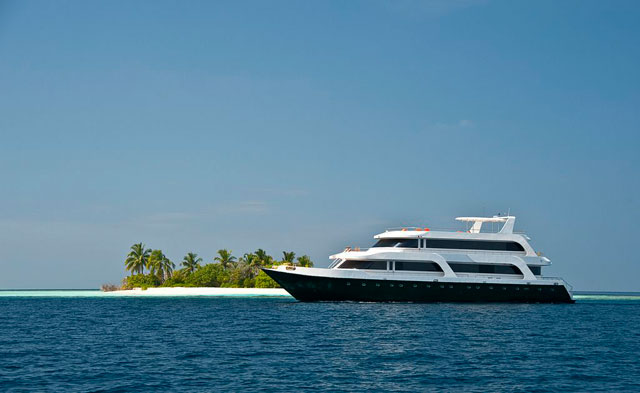 Boat:
Length: 115ft
Engine: 500HP
Generators: 2 x 40KVA
Water Makers: 1.2 tonnes per day
Beam size: 31ft
Draft size: 9 ft
Build refit: 2012
Cruising speed: 10 knots
Maximum speed: 12 knots
Rooms:
There are 10 guest rooms, each finished with the ambience of a Maldivian Resort. Every room comprises of double / twin beds, as well as stylishly tiled en suite bathrooms, with toilet and shower facilities. The Executive Suite has the added luxury of a bathtub / jacuzzi.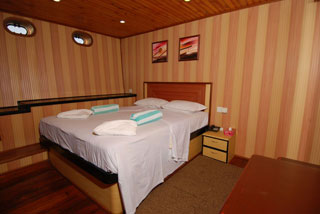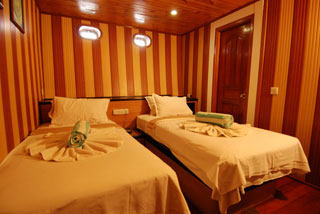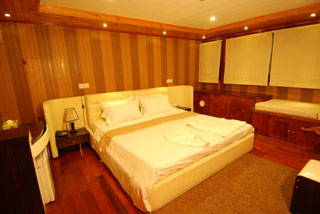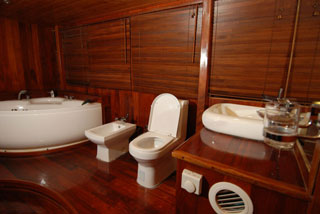 Deck Formations:
Lower Deck:
4 x Double Rooms, each with a Queen sized bed.
4 x Twin / Double Rooms.
Main Deck:
1 Large jacuzzi, internationally stocked Bar, luxurious Dining Area, spacious Lounge Area.
Upper Deck:
1 x Double Mini-Suite Room with a Queen sized bed.
1 x Executive Suite with Bathtub / jacuzzi.
Sun Deck:
Numerous Sun Loungers.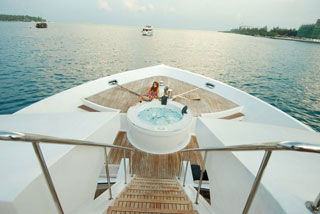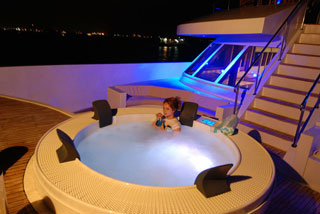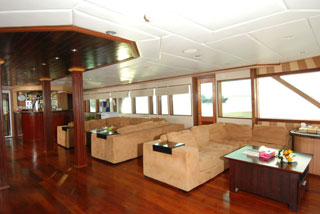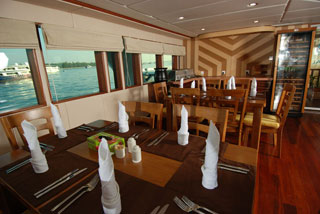 Separate Diving Dhoni:
Fully equipped 65ft diving dhoni complete with 2 x Coltri Compressors, 30 Tanks and oxygen kits.
Crew:
Boat Crew: 12
Diving Dhoni Crew: 3
Diving Guides: 2
MV Leo Routes and Itineraries:
Best of Maldives
Day 1 - Pick up and Check-in from 1.00pm at Male Airport
Day 2 - Dive North Male Atoll, cross to Rasdhoo Atoll
Day 3 - Dive Rasdhoo Atoll and North Ari Atoll - Grey Reef Sharks and Hammerhead Sharks
Day 4 - North Ari Atoll - Mantas and night dive on the famous Maaya Thila
Day 5 - South Ari Atoll - Mantas and Whalesharks
Day 6 - South Ari and Male Atolls - Sharks and Pelagics - Desert Island Dinner
Day 7 - South Male Atoll - Pelagics, afternoon tour of Male city
Day 8 - Check out at 07.00am and 09.00am, Male Airport
By special request for charters:
Manta Madness:
Season: August - October
Day 1 - Pick up and Check-in from 1.00pm at Male Airport
Day 2 - Dive North Male Atoll, cross to Baa Atoll
Day 3 - Baa Atoll - Hanifaru Bay Area
Day 4 - Baa Atoll - Hanifaru Bay Area, cross to Rasdhoo Atoll
Day 5 - Dive Rasdho Atoll and North Ari Atoll - Grey Reef Sharks and Hammerhead Sharks
Day 6 - North Ari Atoll - Mantas and night dive on the famous Maaya Thila
Day 7 - North Male Atoll - Manta Point, afternoon tour of Male city
Day 8 - Check out at 07.00am and 09.00am, Male Airport
Deep South: Touring the Huvadhoo area - minimum 10 nights
Season: February - March
Day 1 - Meet and Greet at Kahdheedhoo Airport, Gaafu Dhaalu Atoll
Day 2 - Dive Thinadhoo area, Dhevadhoo area, Villingilli area - anchor at Whaleshark spot
Day 3 - Vilingilli Kandu area
Day 4 - Nilandhoo Kandu area and night dive on Hyatt Reef
Day 5 - Mareehaa Kandu area
Day 6 - Gazeera Thila, Vaadhoo Corner, Vaadhoo Thila
Day 7- Mareehaa Kandu area
Day 8 - Kondey Kandu area
Day 9 - Mareehaa Kandu area, cross to Kahdheedhoo
Day 10 - Depart from Kahdheedhoo Airport, Gaafu Dhaalu Atoll
South Central; Touring the Male, Vaavu, Meemu, Thaa and Laamu areas
Season: January - April
Day 1 - Meet and Greet at Male/Kadhdhoo Airport
Day 2 - Dive North and South Male area
Day 3 - Dive Vaavu Atoll with it's beautiful coral formations
Day 4 - Dive Vaavu Atoll, with exciting channel dives and a night dive with Nurse Sharks
Day 5 - Dive Meemu Atoll
Day 6 - Dive Thaa Atoll
Day 7 - Dive Laamu Atoll
Day 8 - Check-out at 07.00am and 09.00am