Home > Diving Maldives > Maldives Liveaboards
M/V Carpe Vita Explorer
Explorer Ventures Fleet's Liveaboard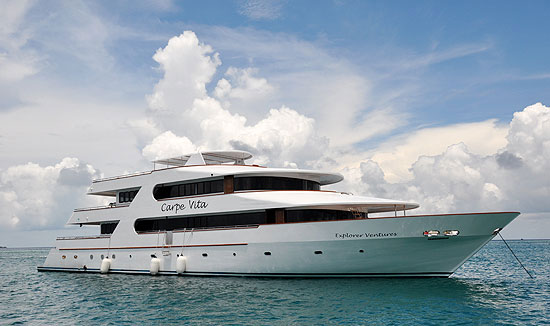 The M/V Carpe Vita Explorer, began service in February 2011 and is a very exciting and luxurious addition to the Explorer Ventures Fleet! This new 20-passenger, 125 foot wooden-hull safari yacht, along with her 65-foot custom matching dhoni, was built by one of the Maldives' most accomplished boat builders. It provides guests with an exceptional and luxurious yachting experience, large, hotel-style staterooms, Jacuzzi and unmatched open-air comfort!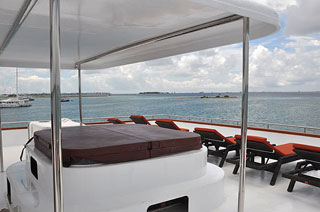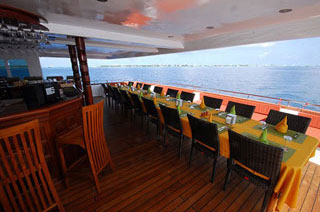 When you board the vessel you'll be on the main deck where you'll find an indoor salon/restaurant that includes a lounge and TV area. This inviting area features a large flat screen TV, DVD/MP3 player, sound system, sitting/library area including a buffet table and refrigerators. Just forward of the salon area there is an outdoor shaded sitting area complete with comfortable cushioned benches. This is a peaceful place where you can sip your afternoon tea while the vessel is cruising and take in the beautiful colors of the Indian Ocean. The main deck also includes a galley equipped with spacious commercial refrigerators/freezers, the office, common restroom, dive equipment rental/storage area and the swim platform at the back of the main deck (with two fresh water showers). There is also a specialized camera tablein the outdoor area and a power charging station at the entrance. Staterooms 3 & 4 are found on this deck as well.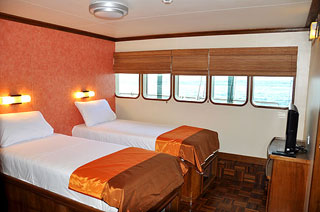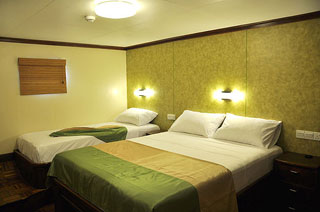 From the main deck, you can access the upper deck via indoor or outdoor staircases. The upper deck includes staterooms 1 & 2 (the VIP Suites), the bridge and an aft al-fresco dining area wiht a fully equipped main bar offering you a wide variety of spirits, wines, liquors, cocktails and beer. In the restaurant you will be served semi-buffet meals prepared by our fine dining chef. There is a stairway from the upper deck to the beautiful Sun deck where you can choose a chaise in the sun or in the ample shaded area or to take a relaxing soak in the Jacuzzi.
Also from the main deck, you can take a stairway downstairs to access the large lower deck staterooms (numbers 5-10).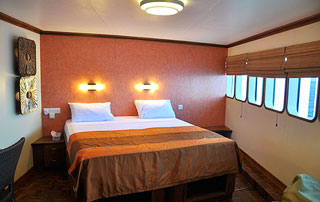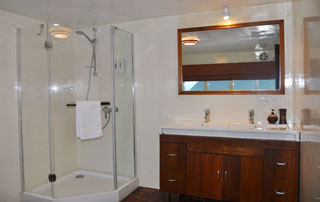 All 10 cabins offer a private bath and shower, separately controlled air-conditioning and plenty of storage space. The 2 upper deck cabins are very large with a king bed or double beds and study area; the 2 main deck cabins can accommodate 2 individual with 2 double beds or a couple in 1 queen; the 6 lower deck cabins offer a queen bed and a twin bed.
The Carpe Vita Explorer offers 10 night and 7 night itineraries which change depending on the season. Each offering a unique dive itinerary based on the seasons, current and pelagic migration patterns.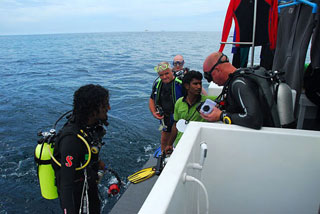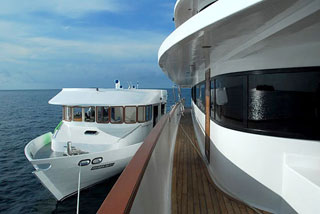 Staffed by a crew of 13, the Carpe Vita Explorer is ideally sized and equipped for divers. Four dives are conducted daily directly from a 65-foot Dhoni, which is fully equipped with a bathroom, hot-water showers and air and nitrox compressors. The dhoni is well-stocked with quality diving gear for each guest for those passing through the area as part of a longer trip; nonetheless, the crew's experience and qualifications are well suited for those traveling specifically to experience one of the most amazing diving destinations in the world!