Home > Diving Indonesia > Indonesia Liveaboards
Waow Seafari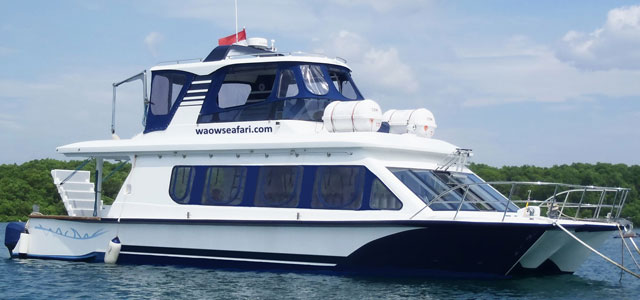 Exclusive Daytrips & Customized Charters
Waow Seafari provides a personalized charter service for the discerning water sports enthusiast in Bali. We offer environmentally sensitive diving, snorkeling and sight-seeing tours for groups or individuals to Bali's surrounding islands and beyond. A choice of both single and multiple day itineraries are available.
Our Luxurious Catamaran
Our custom-built 14 x 4.80 m fiberglass power catamaran is modern, spacious and comfortable. Waow Seafari accommodates 16 divers, 4 dive guides and 4 crew and is powered by 4 x 200hp outboard engines, reaching a cruise speed of 20 knots. She features an open fly-bridge with seating, a "Bauer" Mariner 320 High pressure compressor, a "Coltri Sub" low pressure Compressor with Nuvair Nitrox membrane, dive tender, a big center rack for individual tanks with seating area and individual storage.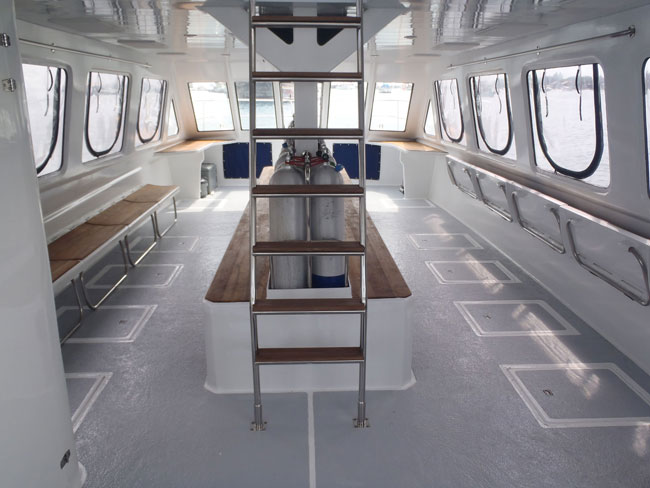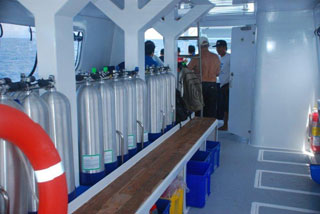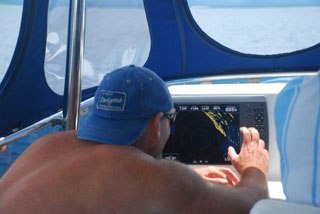 Additional features include a toilet as well as two fresh water showers outside. The large and well-designed access steps into the water make for very easy exiting after the dives.
For safety, we are equipped with top of the line navigational equipment such as GPS, radar, sounder, full safety inventory, a first aid kit, oxygen, life jackets and 2 life rafts.
Our catamaran allows you to access the best spots surrounding Bali with comfort and safety.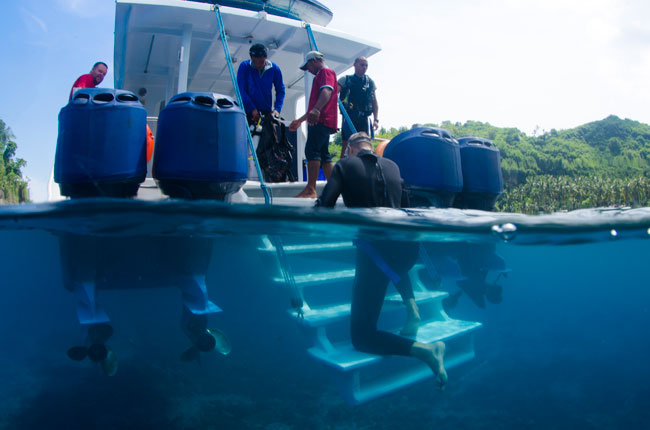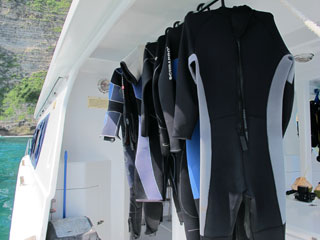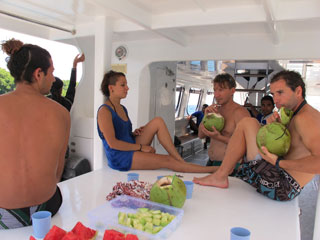 ---
5 Nights Bali Seafari – 14 Dives

From a macro festival (pigmy sea horses, pegasus fish, frog fish, ghost pipe fish etc.) to a wide angle festival at Tulumben on the USS Liberty, American cargo torpedoed in 1942 and the most celebrated dive site in Bali, the variety in Bali is superb. Then there is still more at Crystal Bay, where the visibility is almost always awesome, to meet the famous Mola Mola, the largest boned fish in the world with a span as large as 4m. Don't forget to meet the Manta Rays at Nusa Penida, WAOW!!! Our exclusive and original formula offers you all the best dive sites in Bali.
Sunday
Arrival at your hotel in Sanur. Transfer of your equipment to the catamaran "WAOW SEAFARI". Evening group dinner. Night at the hotel.
Monday (2 Dives)
Morning transfer by bus from Sanur to Amed. During the transfer we visit a temple and pass by magnificent scenery including rice fields, forests and coffee, cocoa and spice plantations. Light refreshments along the way. Arrival at the hotel in Amed for check-in and lunch. 2 dives in the afternoon in the area of Amed, one being the check dive. Dinner. Night at the hotel.
Tuesday (4 Dives)
Morning: 2 dives at Tulamben on the USS Liberty Wreck: A famous and spectacular WW2 wreck with ease of penetration, covered in a rich and diverse fauna. Afternoon: 1 dive at Seraya Secret: an extraordinary site for lovers of muck macro diving: pygmy sea horses, frog fish, harlequin and coleman shrimps to name just a few. 1 night dive on the USS Liberty. Dinner. Night at the hotel.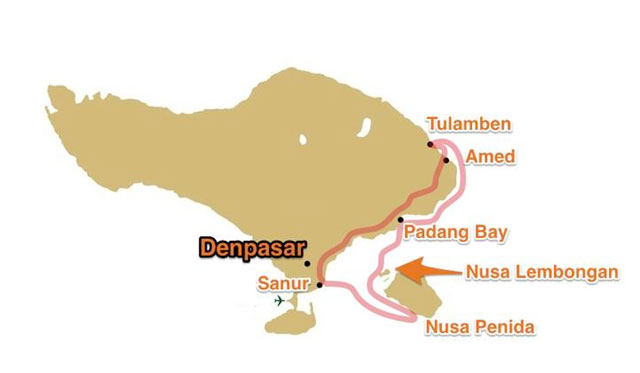 Wednesday (2 dives)
Check-out and departure aboard WAOW SEAFARI in the direction of Padang Bay. (Amed to Padang Bay approximately 60-90 minutes) 1 dive at Gili Tepekong, A small island off the more oriental coast of Bali. Incredible soft corals, white tip reef sharks and the possibility to see pelagics. 1 dive at Gili Mimpang: Shark alley with 4 large rock formations just off the coast of Padang Bay. White tip reef sharks, great hard coral formations, turtles and Mola Mola in season. Lunch between the 2 dives on White Beach in a local restaurant, (Warung) a small white sand beach off the beaten track. Crossing to Nusa Penida / Lembongan (60-90 minutes), dinner and night at the hotel.
Thursday (4 dives)
3 day dives. Crystal Bay: Drop-off, Mola Mola (Ocean Sunfish), carpet sharks, sea snakes etc. Manta Point: Manta Ray cleaning station. Blue Corner: A drop off near the Coast of Lembongan Island. Mola Mola, white black and carpet sharks, eagle rays, pelagics, turtles etc. Night dive in the area depending on conditions. Alternative: Potential diving possibilities in South Lombok depending on the weather conditions (with supplement). Dinner. Night at the hotel.
Friday (2 dives)
2 dives around the region of Nusa Penida / Lembongan. Return to Sanur from Nusa Lembongan (60-90 minutes) and transfer to your onward arrangements.
(End of our services)
Our Hotel Selection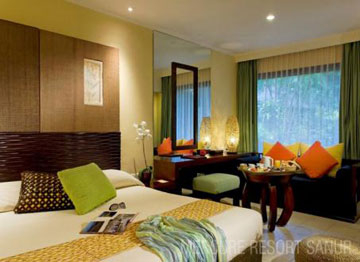 Mercure Resort Sanur **** - 1 night
Ideally located at the South of Sanur beach, the Mercure Resort Sanur is the right place to stay and explore the vibrant atmosphere of Southern Bali. The hotel boasts 189 rooms spread amongst 41 cottages with thatched roofs, in a calm 5 acre tropical garden. All rooms are tastefully decorated and featuring A/C, private bathroom, cable TV, telephone and private terrace or balcony. Within the complex there are also 2 swimming pools, restaurants, bars, beach, spa and massage services, whirlpools, tennis courts, tour & rental desk and Wi-Fi.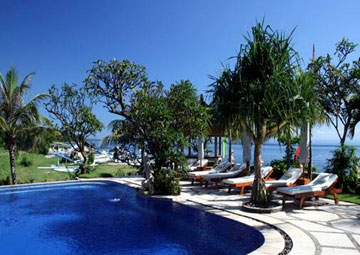 Arya Beach Resort – Amed *** - 2 nights
Situated seaside on a beach of black sand, this charming hotel is one of the best addresses in Amed. Made up of only 24 rooms (4 Superior, 14 Deluxe and 6 Suites) and spread amongst a lovely garden, the Arya Beach Resort submerges you in an atmosphere typical of East Bali. Each room features A/C, private bathroom, cable TV, telephone, safe, balcony or terrace with either sea, garden or hillside views. The complex also boasts a large swimming pool, bar-restaurant and scooter hire.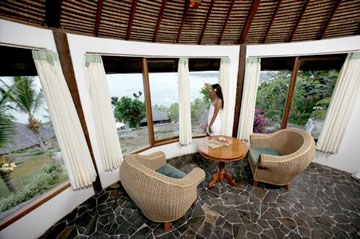 Coconuts Beach Resort – Lembongan *** - 2 nights
Situated directly seaside and overlooking the Badung Straits, The Coconuts Beach Resort boasts an uninterrupted view of Bali in absolute tranquility. With 18 bungalows, built from natural materials on a small hillside, each features A/C, private bathroom, safe, refrigerator and sweeping ocean views. Within the complex there are 2 swimming pools, restaurant-bar, internet connection and tour desk.
---
2014 Departure Dates
April 13-18, May 11-16, June 15-20, July 13-18, August 10-15, September 14-19, October 12-17, November 16-21
Price per person: USD $1,600
Included in the SEAFARI price:
Transfer from Sanur to Amed
5 nights' hotel accommodation in "Twin Share". (Sunday to Friday)
Full board (all meals) from Sunday evening to Friday lunchtime.
Full diving services including: boat, tanks, weight belts and guides.
Local excursions (excepting local taxes)
Not included in the SEAFARI price:
International airfares.
Travel and dive insurance.
Port and local dive taxes. (USD 50.00 per person paid on site)
Nitrox 32% (USD 6.00 per tank or USD 70.00 for full Seafari)
Diving Equipment rental
Drinks, souvenirs, personnal expenses and tips.
Fuel surcharges in the event of major price rises. (Will be notified in advance)
For more information
Contact:
Dive Discovery
@
1 800 886-7321
(415) 444-5100
or
Request Info