Home > Diving Indonesia > Indonesia Liveaboards
SMY Tambora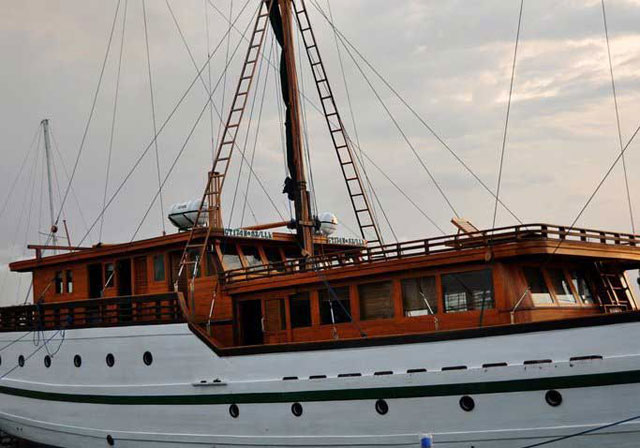 21st Century Luxury & Amenities
Tambora has been sized and configured to comfortably accommodate a maximum of 16 divers. Our eight spacious guest suites feature large double or twin beds (no bunk beds!), a writing desk and chair, and ample storage space for cloths, bags, books, magazines etc. Each room enjoys natural light as well as a chance of a fresh sea breeze from its portholes. All rooms are well lit at night from sunk-in ceiling lights, and are equipped with individually controllable air conditioning and individual reading lights over each bed. Each guest suite comes with a large en-suite bathroom with hot and cold water, and separate shower and hand towels for each guest.
The large salon on the main deck features separate dining and relaxing sections, offering enough space during mealtimes as well as for chilling out.
The entire vessel has been engineered for a minimum of noise and vibration, two nuisances frequently spoiling life on a vessel. All walls and ceilings and thermally insulated and sound proofed.
Old World's Charm & Style
Tambora has been built by traditional boat builders on the island of Sulawesi, in the centuries-old tradition of a wooden Phinisi. The design and materials used guarantee immense strength and resilience of all key structural elements, especially the keel, hull and decks.
She has been entirely constructed out of Sulawesi iron wood and chosen Javanese teak. All decks and the salon rooftop feature teak parquet flooring. Guest suites are well appointed and tastefully designed in a perfect blend of traditional Indonesian motifs and modern functionality.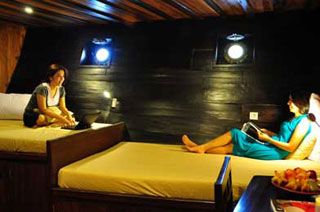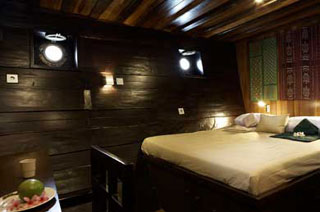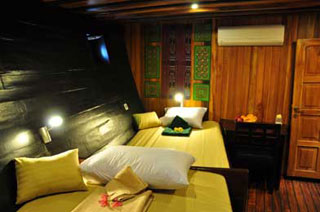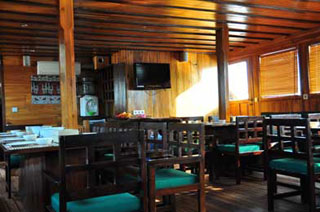 1st Class Safety Features
Tambora's design and construction specifications comfortably meet or, in most instances, exceed the requirements as laid out by the Indonesian classification bureau. She carries the full range of IMO (International Marine Organization)-conform safety, communication, and navigation equipment.
There are no dangerous gas-fired stoves in use, and there is no LPG on board. Rather, all cooking, grilling, and baking is carried out on electrical cooking hubs and ovens of the latest German design and make.
The large, comfortable dive platform on the backboard side of the vessel is only three easy steps down the vessel's main deck. The teak parquet covering the outside deck area is profiled longitudinally in beautiful Indian rosewood, giving your feet grip as well as a massage with every step!
Our guest cabins and common facilities are all of a size that allows our guests to move about the vessel unobstructed. There are no narrow gangways and staircases, or rooms so small that one invariably bumps into a wall or piece of furniture upon any movement. Ceiling heights are a comfortable 2.20-2.50m throughout the vessel.