Home > Diving Indonesia > Indonesia Dive Resorts
Thalassa Dive Resort
Bunaken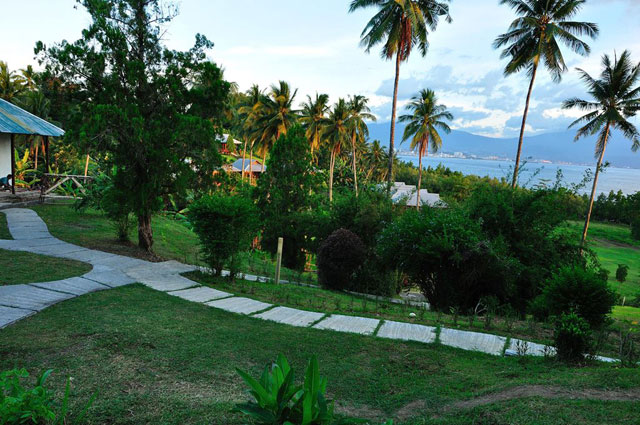 ...where guests leave as friends!
Thalassa is known for its personal and specialised service. Because of this we are really proud of our slogan, "Thalassa Dive Resort... where guests leave as friends!" Whether you would like to dive or snorkel around the islands of Bunaken National Park, the Lembeh Strait or would like to make a trip to the Bangka Archipelago, our team of friendly, skilled and, always helpful team is ready to take you. They are more than happy to show you the Highlands or Jungle too and even if you prefer the hustle of the busy city of Manado; Nothing is too much.
Thalassa, a Dive Center with 35 years of experience
The well-known PADI 5* Instructor Development Dive Center Thalassa, based in Manado, North Sulawesi was founded in 1996 and has been run since by Simone Gerritsen, a Dutch PADI Course Director and diver for 35 years. Since January 2013, Thalassa has expanded her service with accommodation as well, offering a 5* service for both divers as non-divers, right on the border of Bunaken National Park.
The quality of our PADI dive courses is legendary. We don't take "short-cuts" and your safety and comfort is of major importance to us. Check out our Dive courses and the E-learning options for your next trip. Besides that we are 100% AWARE of our dive environment and will donate to Project AWARE for every license we issue; getting you a special license card.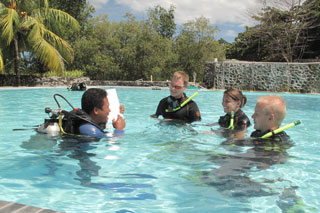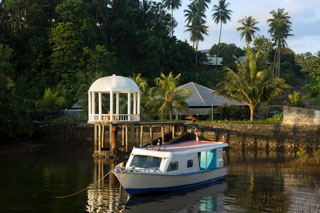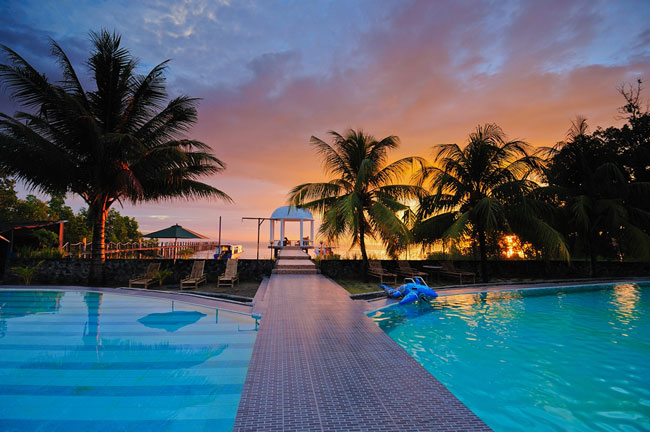 Accommodation
A place to feel at home...
You will be surprised how close to nature you feel in this small resort. "Thalassa goes Green" and that is something you feel everywhere... Between the fruit trees, the swaying palm trees and the flowers of the lush gardens Thalassa 5* PADI Dive Resort has a total of 19 rooms divided into 4 categories.
All rooms are equipped with AC and private bathrooms with hot-water shower and overlook the sea from a private terrace.
The Bungalows
There are 7 Sea view Bungalows on the resort. The rooms are spacious, with their 50m2 and easily accommodate 3 or 4 guests.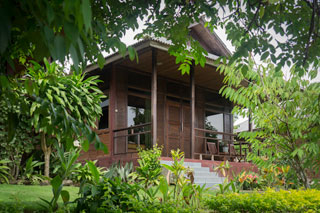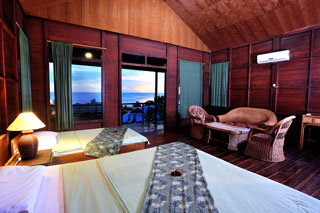 The Cottages
There are 4 Sea View cottages available. The room size is about 35 m2 and suitable as single or twin occupancy.
A Small Compound; perfect for groups
The small compound, at the highest point of the resort, offers a stunning view over Manado and the bay. This is the perfect place for groups who like to "stick together". It even invites to have a private BBQ in the private garden in front of the rooms.
Superior Rooms
The 4 Hill Top Superior rooms are located with two rooms under one roof. The rooms are approximately 50 m2. This room is also suitable for triple occupancy.
Standard Rooms
These 4 rooms are located under one roof and two rooms share one terrace. Rooms are 25 - 30m2.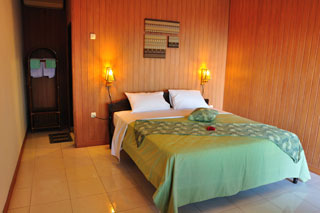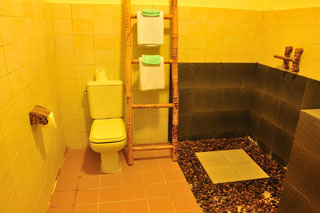 Food
Breakfast, lunch and dinner are being cooked by our two local cooks, Arnold and Nor, who make an effort adding to your sense of adventure by making delicious local dishes. If you would like to have a look in the kitchen and see them in action, no problem at all. You can even help them cook if that is what you enjoy.
Our buffets offer a taste of the traditional Minahasa dishes, giving you a chance to eat vegetables you never ate before. The weekly BBQ at the pool side is the highlight for most guests. Decorated with romantic "obor-obor" and candles you can enjoy the life music from our staff while indulging in terrific food.