Home > Diving Indonesia > Indonesia Dive Resorts
Tasik Ria Resort
Bunaken

"Their mission; to be recognized as a resort with excellent facilities that strongly emphasizes Eco-Tourism, to satisfy the needs of their guests and to provide uncompromising quality. The resort has a strong reputation for excellent dining, beautiful landscaped surroundings with lovely accommodations (beach front bungalows or garden view) and last but not least complete and full service dive shop. All you are expected to do is show up for your dives and you are good to go. The dive masters are extremely knowledgeable and I have been told by travelers that I have sent there that they "practically hold your hand". Tasik Ria Resort, has captured the European market and is welcoming the American's with open arms. With out a doubt, Tasik Ria Resort, will provide you with a memorable Indonesian dive holiday."

-- Cindi LaRaia
Location
About 30 minutes drive from the hustle & bustle of Manado is Tasik Ria Resort & Spa. Here with its peaceful and scenic palm fringed backdrop is a family owned and run resort that offers not only luxury and comfort but also a level of warmth and hospitality which in today's frantic world is such a rarity.
With the Bunaken National Park only a 45 min boat ride away, you can be assured of some of the best diving in the world. At Tasik Divers we can say we truly look after divers and non-divers alike!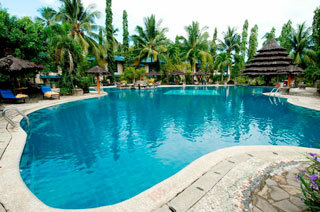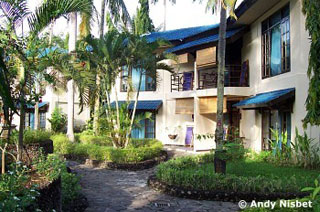 Accommodation - Pool View Rooms and Sea View Cottages
The resort's 34 rooms are in 2 categories, all have full air conditioning, mini bar, safety deposit boxes, en-suite bathrooms, cable tv, IDD phone and coffee/tea making facilities.
Twenty standard Pool View Rooms are conveniently situated around the large free form freshwater swimming pool. Some have inter-connecting doors, ideal for families.
For those looking for a more romantic hideaway, the premier Sea View Cottages offer more privacy and look out onto the beachfront, affording a beautiful view across the jetty into the horizon, in the early evening the sunsets can be spectacular, offering the chance for either a romantic stroll hand in hand, sipping champagne or maybe a cocktail either in the comfort of your private veranda or in the cool atmosphere of the jetty bar.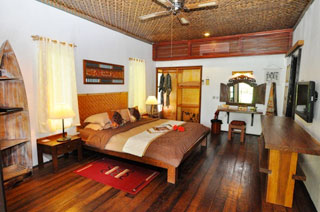 Diving & Snorkeling with Tasik Divers
Our highly trained and experienced team lives for the diving so each one is the ideal buddy for your Tasik diving experience.
When you have the right buddy, the right equipment, the most comfortable boat, pristine warm water, a variety of options, tasteful food and an amazing place to discover…what else do you need? The answer to that question is that it's what we do every day. We are especially attentive to all but also know that some divers need a specific care. Whatever your need, let us know and we will do our best to accommodate you.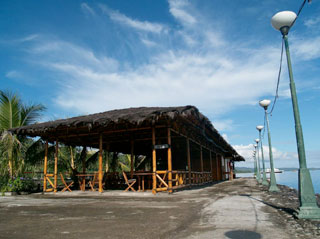 Passionate about photography? Our wall of fame photographs is enhanced with photos from our visitors who give us their best shots. Our photography clinic is a good way to learn or to improve your skills. Our Camera Room is equipped to give you the best so you can care for and maintain your equipment.
We keep learning from each one of the handicapped divers who has visited and we continue to work to make the scuba-diving accessible for the all and to assure that people with disabilities are given the same opportunity to enjoy dive adventures as the next person.
Sooner or later every serious diver learns to take underwater pictures; "I swear it was a blah shark" and no-one believes you! Get the proof! Bring your camera! We know when the right moment is to take the best shot so let us share our experience with you.
Scuba diving is a safe sport but it needs proper training, equipment and preparation. That's the reason why our technical divers are there to help you!
We are also a dive destination for beginners. All divers were new once; as good buddies we will help you to get through your jitters, giving you tips and techniques. The big smile on the face of your dive guide and the support of our team will do the rest. We dive with small groups of 4 divers to 1 guide, so all you need to do is relax and enjoy.
If you want to explore one of the most amazing marine places on earth you don't need to be a diver to explore it. Snorkel and discover a world that will not disappoint you. You are most welcome either onboard or to snorkel from our shore. We prepare everything that you need and give you a Tasik Experience from the surface.