Home > Diving Indonesia > Indonesia Dive Resorts
Nomad Divers
Bangka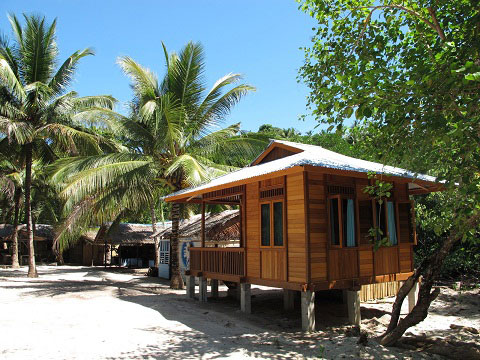 We are a small friendly dive resort located on Bangka Island, North Sulawesi.
From Manado airport we provide an air conditioned transfer with cold mineral water for an hour north where we meet our boat for a forty minute boat ride to Nomad Divers. Clients will be met on the beach with welcome drinks and fresh fruit.
We have four wooden cottages built in the local Minahasan style which all have double beds, ensuite bathrooms with Western style toilet and balcony. Two cottages have two rooms which can fit one more single bed.
On the beach is our restaurant and bar, dive centre and you will also find hammocks and wooden benches for relaxing after a dive. The restaurant serves three meals per day prepared by our local chef, this ranges from pork satay to chicken curry to fish sambal or BBQ chicken with chips! Meals, drinking water, tea and coffee are all included in the nightly rate.
The diving on Bangka is incredible with a wide variety of dive sites; in our bay we spot dolphins most mornings and also have a resident dugong. You can spot frogfish, pygmy seahorses, ornate ghost pipefish, scorpionfish, eagle rays, many types of crab and shrimp and so much more. There are plenty of underwater pinnacles, caverns and also sandy bottoms ideal for training dives. We offer PADI courses up to Divemaster.
Bangka Diving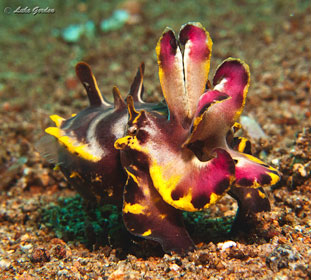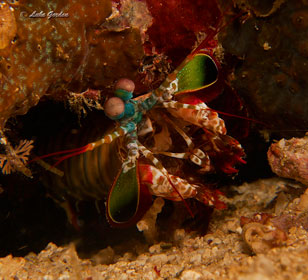 Aringkambin Bay
Decend to 7 metres and follow the sandy slope down to 16 metres which is all white sand, where you can experience some white sand muck diving! Look for ambon scorpionfish, juvenile painted frogfish, drangonets, flambouyant cuttlefish, pipefish, seahorses, cockatoo waspfish, blue-spotted ribbontail ray,s robust ghost pipefish, longarm octopus, and if you're really lucky (like the guys from the Two Oceans team) you might encounter our dugong!
Sahuang Pinnacles
Beautiful huge underwater pinnacles which can be dived 3 or 4 times and you'll see something different. Spot pygmy seahorses here, schooling yellow fusiliers, and look out for juvenile white tip reef sharks!
Tanjung Husih
A sloping coral reef where we can see giant frogfish, the occasional turtle, ghost pipefish, garden eels, and sometimes groups of bumphead parrot fish.
Paradise Jetty
A dive site on the mainland of North Sulawesi where we dive over black volcanic sand, shallow coral reef and finish under the jetty. Look out for the two yellow frogfish, mimic octopus, loads of critters and finish under the jetty where you will find volcanic hot water vents streaming into the water and a huge amount of soft coral and marine life including groups of razor file fish, spade fish, huge schools of glass fish, scorpionfish, box fish, lionfish.
Batu Gosoh
A great deep dive, a steep coral wall going down to 60 metres with a cavern where the top is around 30 metres, dive across this huge wall with amazing soft coral and sometimes turtles, devil rays and bigger stuff!
Lembeh Day Trip
Visit some of Lembeh's top dive sites in this incredible muck-diving capital of the world! Try to spot a hairy frogfish, seahorse, mimic octopus, many types of pipefish and scorpionfish or a deadly blue ring octopus - the Lembeh Strait is full of unusual creatures and rare critters that photographers love and can only be seen in Lembeh!