Home > Diving Indonesia > Indonesia Dive Resorts
Dive Into Ambon and Maluku Resort & Spa
Maluku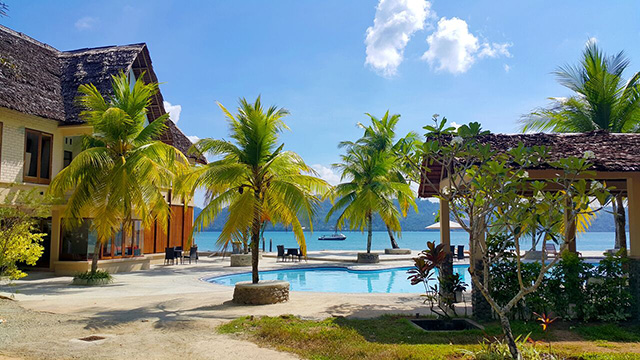 Located in beautiful Baguala Bay, away from the built up area of Ambon Bay, Maluku Repost & Spa offers a perfect island getaway.
Set in lovely gardens, on the sea front, it is a hidden jewel of Ambon. Completely renovated in 2015, we offer Ambon's first and only truly boutique hotel experience. With 4 self-contained cottages, 2 Sea Front Studio rooms and 6 Standard Deluxe rooms you can feel the personal touch. Super friendly staff, great good and a relaxing atmosphere.
With our own on-site Spice Island Spa, you can relax and enjoy our beautiful island.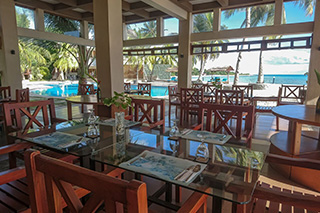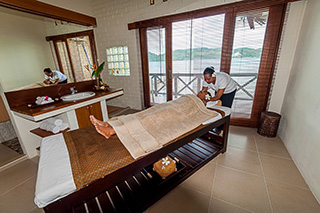 Accommodation
We have three classes of room available, Cottages, Sea View Studio and Standard Deluxe. All rooms come with air-conditioning, Cable TV and hot water.
The Cottages
Set in the garden, with views of the Baguala Bay and the pool, these wonderful self-contained cottages are perfect for your stay.
Split level, with their own balcony, living room, bedroom and 'Bali' styled bathroom. These rooms can accommodate three people max.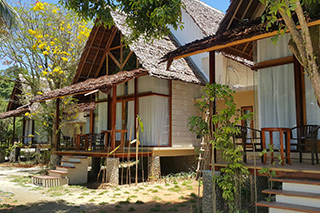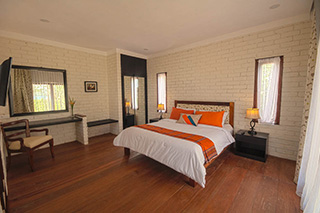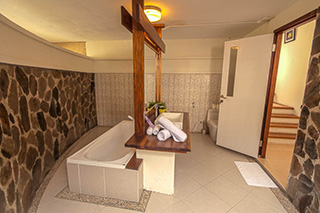 Sea View Studio Suites
The Sea View Studio Suites are directly facing the sea. With a bedroom, a large living room and private bathroom.
Max 4 guests.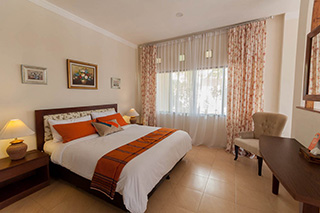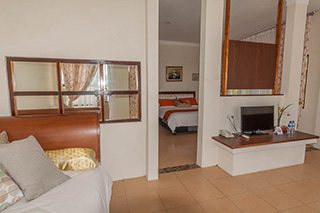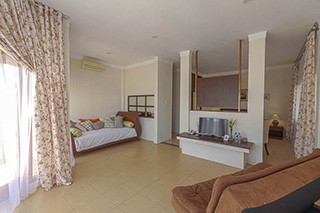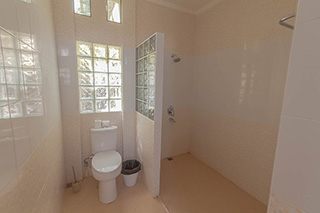 Standard Deluxe
The Standard Deluxe Rooms offer simple yet comfortable accommodation.
The rooms all have views to the sea, with private bathroom and air-conditioning.
Max 2 guests per room.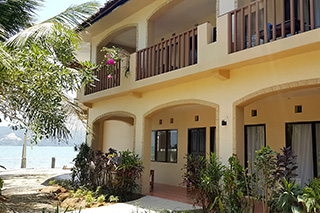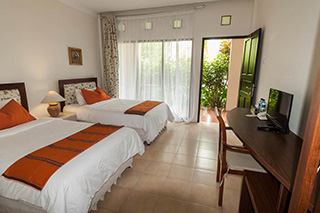 Diving
Maluku Resort & Spa is proud to have Dive Into Ambon as their on-site dive partner.
Our on-site Dive Centre has been purpose built by divers for divers. It's a great place to relax after a days' diving.
Our dedicated Camera Rooms has universal sockets, all of which are attached to a voltage stabilizer (220V), ensuring even power when charging your batteries.
We have Aqualung Dive Equipment for rent, as well as Mares Dive Computers. Equipment Rental must be booked in advance to ensure we can reserve the correct sizes you need.
Nitrox is available, at 32%. We have a membrane system and analyzers on the boats, so you can check that all is good.
We do day trips from our base at the resort, three dives a day.
For diving Ambon Bay we take a short 10 minute bus ride to our private jetty at the base on Ambon Bay. From there we depart on our boats for our three dive trip to the amazing muck sites.
When the season is right (see below) for the southern and eastern sites, we depart from the resort, again for our three dives.
On a typical day we depart from the resort at 8.15am, returning around 4.30pm.
When all the sites are open we run one day of diving in Ambon Bay, followed by one day of the southern and eastern sites, and then repeat, so you can enjoy everything Ambon has to offer.