Home > Diving Indonesia > Indonesia Dive Resorts
Maluku Divers Resort
Maluku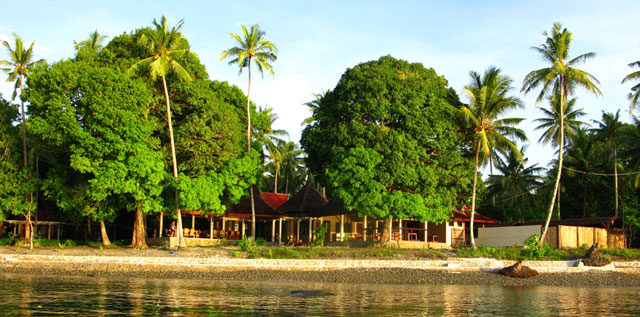 Dive Ambon with Maluku Divers
A new era begins in Ambon as Maluku Divers is proud to announce the opening of a purpose built dive resort offering superior levels of both accommodation and dive facilities from which to dive Ambon. Situated in the village of Laha, a peaceful beachfront plot now houses individual bungalows, amongst an array of mature trees. In the very heart of Ambonís muck diving region, the new site has been the dream of the Maluku Divers team for several years and is the culmination of extensive planning and hard work.
Maluku Divers has long been evolving; with humble beginnings as a back packer facility followed by newer resort, but there was always a desire to develop a facility planned for divers, designed by divers, finally this dream has come to fruition. The new facility combines convenience of location and proximity to the best diving in the region, to create a resort to dive Ambon, that can boast to be the best in the entire Maluku Province. The new location provides levels of convenience and comfort that were previously unavailable to dive Ambon.
Maluku Divers has always been the only internationally owned and managed dive centre in Ambon and remains one of only two dive operations on the island. With the new facilities, the most unique accommodation on Ambon island and in the Maluku region as a whole, Maluku Divers sits at the pinnacle of the choices to dive Ambon.
The new location helps Maluku Divers to offer high quality shore and boat diving to a relatively small number of divers on a large expanse of varied muck diving sites. The location intensifies the convenience enabling divers to reach the growing number of muck and critter sites found when enthusiasts dive Ambon Bay.
Ambon is a destination for a dive trip itself, however due to excellent travel logistics with multiple daily flights from Bali, Jakarta and Manado, it is also a convenient hub for dive trips throughout the east of Indonesia and so Maluku Divers can easily be an economical add-on to a liveaboard cruise or a trip to one of the other more difficult to access regions of the east.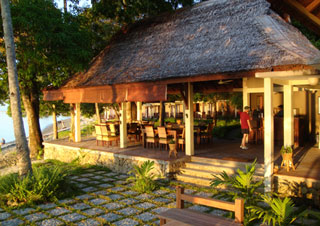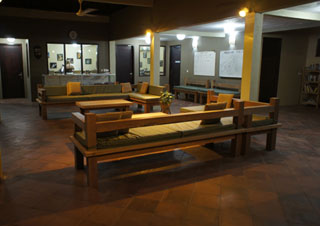 Accommodation
Maluku Divers has evolved in the summer of 2009, with a brand new purpose built dive resort in Ambon. Set amongst mature trees in a beautiful 5,800 metre private beachfront plot, in the village of Laha just 5 minutes from the airport, we've built individual bungalows, supported by on site restaurant, dive shop, large camera room and great dive facilities.
The bungalows comprise of hot water private bathrooms, a/c and each has a private patio. Inside each bungalow, along with our trademark enormous comfy beds, we have added individual editing desks, with charging stations for our divers. There is also a large relaxing open air wooden terrace at the front of each bungalow, offering uninterrupted views to the ocean and our new house critter dive.
As we're now located within Ambon bay, we can offer numerous shore diving opportunities at the resort at multiple critter sites directly on the shoreline, as well as boat dives to the other sites in and around Ambon.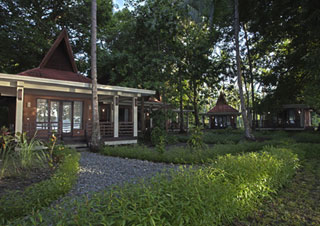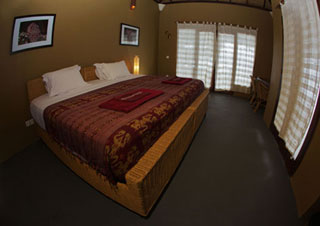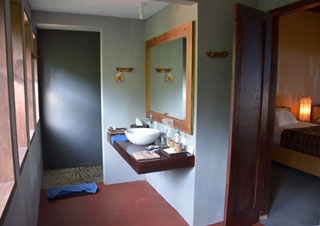 Diving Ambon; Diving Unique Habitats
Though diving Ambon is quite rightly touted as an incredible muck and critter diving experience, the birthplace of Indonesian muck diving to be precise, the sites which can be found when diving Ambon are very diverse. With a huge 100 metre shipwreck resting within Ambon Bay, just minutes from the new resort and interesting topographical sites on the south coast, in addition to exhilarating drift diving on the northern and western coasts of Ambon , diving Ambon comfortably holds it's own with Indonesia's most popular reef sites.
Diving Ambon at the site known as Pintu Kota (Gate of the City) reveals incredible underwater architecture at 17 metres, with a huge underwater archway mirroring the rock formation above water. Ambon diving can deliver many interesting topographical sites, particularly exciting is a site known as Hukarila Cave, with it's twisting caverns and canyons swarming with life.
Pulau Tiga is a small group of islands found on the Western Coast of Ambon, the sheer number of fish that inhabit the slopes of these small islands is mesmerising. When diving Ambon sites around Pulau Tiga and the southerly tip of Seram, it's also possible to witness the traditional fishing techniques of the local population. Dynamite fishing, so common in other areas of Indonesia, is thankfully not a problem when diving Ambon waters, A day trip to the Pulau Tiga region, drift diving the hard and soft coral slopes is a very special experience, capped with a delightful lunch on any one of the beaches to be found on the idyllic, palm tree fringed islands - a beautiful backdrop for the surface interval.