Home > Diving Indonesia > Indonesia Dive Resorts
Kungkungan Bay Resort
Lembeh Strait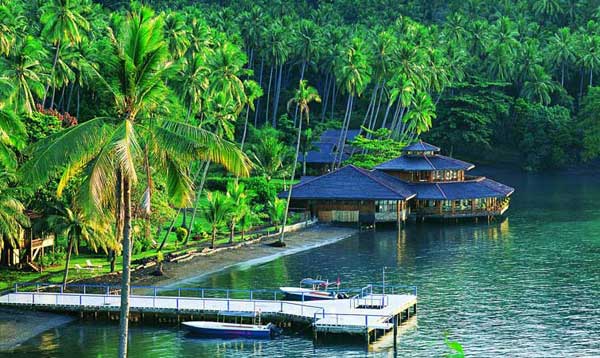 Kungkungan Bay Resort, is a small exclusive resort tucked against a coral-filled bay on the Lembeh Strait. Located just north of Bitung harbour opposite the town of Manado, Sulawesi. The accommodations are deluxe beach front cottages offering two queen size beds, very spacious and built of local wood and design. A wide verandah with a sitting area offers an excellent view of the strait and the island of Lembeh.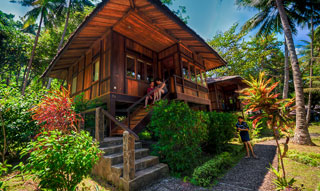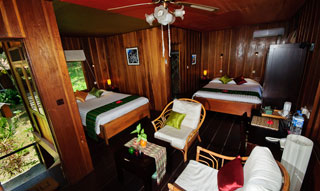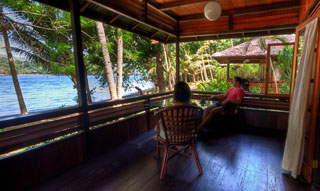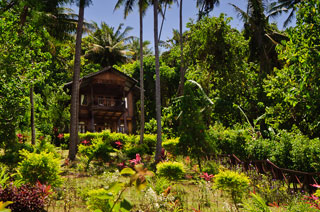 The lodgings are outstanding, but the real appeal to this resort is the diving. You will see such things as the cockatoo waspfish, frog fish(in variety of colors) mandarin fish, nudibranches of all makes and models, orangutan crab, harlequin ghost pipefish, coleman shrimp in fire urchins, lionfish by the hundreds on the Malawi shipwreck, blue ribbon eels and juveniles, blue ringed octopus, mimic octopus, devil scorpion fish, pigmy seahorse (1/4"big),sea moth, leaf fish tame cuttlefish, ornate ghost pipefish, a prolific variety of mantis shrimps all colors, several colors of Rhinopias including a shaggy haired Rhinopia the color of Larry Smith's beard (red)!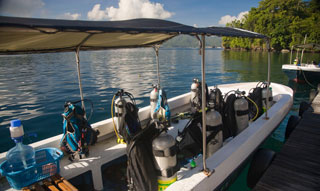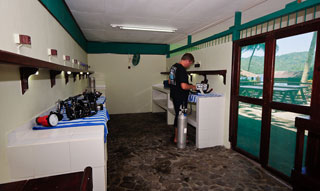 Other activities include canoeing around the bay, highland tours can be arranged ot nearby volcanoes in the Minahasa area, hot spring bath houses or the photogenic rice paddies of Tondano.