Home > Guyana, Suriname & French Guiana > Adventures & Tours
The Saramaccans - Awarradam, Suriname

Awarradam is located on a small island in the Gran Rio river deep in the heart of Suriname. To get there we fly to the remote and isolated Saramaccan village of Kajana then proceed by boat up the Gran Rio river to Awarradam island. This area is inhabited by the storied Maroon tribes who escaped Dutch slavery more than three hundred years ago by retreating into Suriname's forbidding interior.
Their 18th century West African traditions have been uniquely evolving for centuries and it is our incredible privilege to meet a few inhabitants of this vibrant community and get to know their way of life.
A visit to Awarradam is a wonderful opportunity to explore a dense and pristine rainforest packed with birds and wildlife, spend time along (and in) the river and its many rapids, and simply unwind for a few days while swinging in a hammock and watching the peaceful river flow by.
Itinerary
Day 1 - Arrive Suriname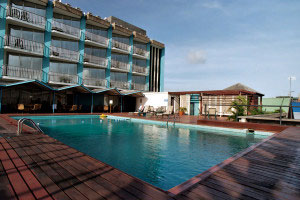 International arrivals are at the Pengel International Airport about 90 minutes outside of the city centre, while regional arrivals (e.g. from Guyana) will land in the center of Paramaribo at the Zorg en Hoop municipal airstrip. You will be met by our representative and transferred by vehicle to the hotel. The day and evening is free for you to shop, explore, dine, and get your bearings in a new timezone. Optional activities can be arranged such as kayaking on the Surinaam River, a walking tour of Fort Nieuw Amsterdam across the river from the city, a stroll through the Indian quarter to catch a Bollywood film, a sunset tour to watch the Surinaam pink dolphins, or perhaps a lesson in Javanese or traditional Surinamese cuisine! Your hotel is perfectly located for walking exploration of this intriguing, multicultural city.
SCHEDULING NOTE: Arrive in Suriname on Saturday to participate in the 8 day tour which flies to Awarradam on Monday morning for a four-night stay there. Alternatively, arrive in Suriname on Wednesday for the 7 day tour which flies to Awarradam on Friday for 3 nights there.
Overnight at Hotel Krasnipolsky

Day 2 - Paramaribo City Tour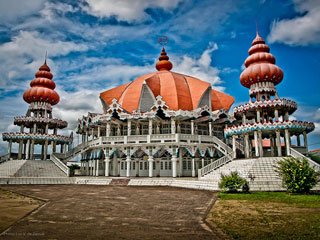 Breakfast is buffet-style at the hotel this morning, overlooking the pool and central Paramaribo. The view of this city's distinct architectural style will help explain why Paramaribo was placed on the Unesco World Heritage List of historical monuments in 2002. Paramaribo is a city consisting of various population groups, cultures and religions. Bustling city life fills the streets lined with historical buildings built in the former colonial style, alternating with modern hotels and office buildings.
We'll start our city tour this morning with a magnificent view of Paramaribo from the famous Wijdenbosch bridge over the Surinaam River. We continue to the old inner city of Paramaribo for an in-depth visit to the ancient building complex of Fort Zeelandia. We continue by foot to Independence Square with its grassy malls surrounded by historical buildings. Then we drive past some of the most prominent historical buildings of Paramaribo and then finish our tour in the early afternoon at Waterkant along the Surinaam River, a favorite meeting place for many Surinamese. Optional guided activities may be arranged for the afternoon, or you can take time to wander around on foot to explore the narrow streets on your own. (B)
Day 3 - Depart for Awarradam
Today we head by car to the Zorg en Hoop airport for our flight out to Kajana (Kai-Yana), approximately 50 minutes by air from Paramaribo. Our plane lands on a grassy airstrip deep in the jungle where we will be met by a representative of the local village. Then we'll walk to the end of the airstrip, climb down a few stairs to the river's edge, and board one of traditional Saramaccan wooden canoes waiting to carry us 30 minutes upstream to the island were Awarradam is perched.
Upon arrival we'll be given a hearty welcome in the Saramaccan style then offered an orientation to the area, the lodge and its history. The rest of the day is relaxed (as you will soon be, too) as we become acquainted with this quiet and remote place. Your private riverfront cabin is built in the traditional Maroon A-frame style but is outfitted with modern conveniences such as mosquito nets, a private toilet with shower, and solar powered lighting. Each cabin has a river-facing balcony with hammocks, offering a beautiful view on the water and towering forest. The building material is taken mostly from the surroundings to ensure harmony with the local environment.
Lunch is served at community-style tables in the main lodge, our first chance to get a taste of the locally grown fruits, vegetables, and tubers that make up the traditional Saramaccan diet. Western tastes are catered to, and special diets can be accommodated if plenty of advance notice is given.
In the afternoon you can walk around the island to get a feel for your surroundings, take a nap in your balcony hammock, look for birds and monkeys, chase some of the colorful iguanas and lizards that scurry across the grounds, or share some time with your fellow travelers in the breezy shade of the riverfront terrace. The evenings are spent in an atmospheric ambiance with kerosene lamps and the meals are prepared in the local manner with primarily local ingredients. On your first night the guide will provide information about the Saramaccan culture and the history of Awarradam. (B,L,D)
Overnight at Awarradam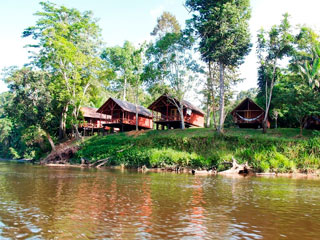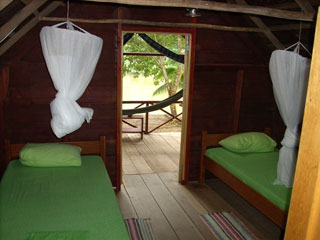 Day 4 - Rainforest and River Excursions
After breakfast, we take you on an informative and adventurous jungle walk. While you are enjoying the environment in the pristine tropical rainforest, the guide provides information about the various trees and plants and how you can recognize animals by their sounds and footmarks. After a sturdy walk back to the jungle lodge, lunch will be served after which you have the opportunity to enjoy leisure time by swimming in the rapids, paddling in a dugout canoe or relaxing in a hammock.
The local people call the rapids near our island Awaadan.Awaa (Awara) is an orange-colored palm fruit and dan (dang) means rapid. Awarradam lies in the Gran Rio River which merges with the Pikin Rio River, 30 km upstream. At this point the Upper Surinaam River begins, flowing out into Brokopondo hydro lake, 75 km upstream. The water level in the dry season can almost be 6 meters lower than in the rainy season!
In the late afternoon, we depart by dugout canoe to Stonhuku, the farthest village in the living area of the Saramaccans, followed by a walk in the jungle through various small villages to Kajana village. During this trip you have the opportunity to get to know the local people, their culture and lifestyle. Upon arrival in Kajana, we are met and greeted the village authority and invited to enjoy dinner and a performance of cultural singing and dancing. The guide will explain the songs and the dancers will greatly appreciate it if you try out their dance style yourself! After the cultural evening, we depart by dug out canoe for the return trip - under a brilliantly starry sky - to Awarradam. (B,L,D)
Overnight at Awarradam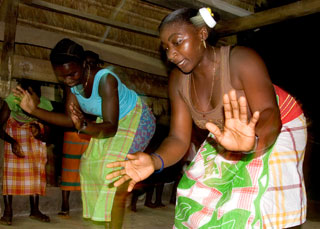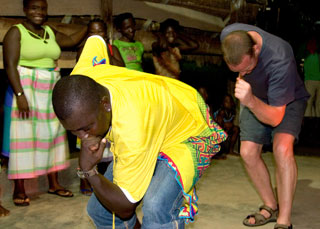 Day 5 - Rainforest and River Excursions
A full day for an adventurous trip on the river awaits us. After breakfast, all necessary goods for the trip are loaded in the dug out canoe and you depart to Gran Dam, the largest rapid, north of Kajana. We have the opportunity to relax in the magnificent seething rapids, take beautiful walks in the area and more adventurous travelers may try to prove themselves by floating or swimming through the rapids (depending on the water level). Picnic lunch served under the trees makes for a perfect afternoon of rest and relaxation. All day you will see the animal inhabitants of the forest such as howler monkey, arras, parrots, toucans, stick bugs, boat-billed herons, piranhas, maybe even a crocodile basking in the sun on the riverbank. (B,L,D)
Overnight at Awarradam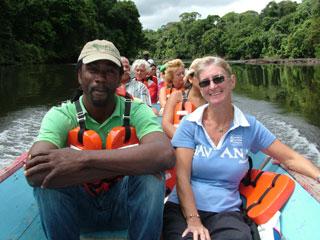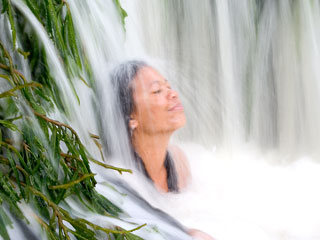 Day 6 - Depart Awarradam, Return to Paramaribo
As always, fresh coffee and tea is delivered to your cabin at sunrise, waiting on a small shelf outside your front door. The morning is free to relax, paddle in a dug out canoe, swim, take a short walk in the forest or just swing in your hammock and enjoy the peaceful sounds of the rainforest. Awarradam staff will offer a musical farewell in their traditional manner then we'll depart with the dug out canoe for the Kajana airstrip. Lunch will be served at the small community shop at the airstrip, then we board our "Otter" for the return flight to Paramaribo.
Tonight we are on our own to refresh ourselves at the comfortable hotel and head out for a night on the town. It may come as a bit of culture shock after our time in the rain forest, but Paramaribo's night life can be quite exhilerating and exuberant, with bars, restaurants, and casinos open all night long. If you're looking for something extra special or have a particular interest, let us know and we'll help you plan an unforgettable final evening in Suriname! (B,L)
Overnight at Hotel Krasnipolsky
Day 7 - Depart Suriname
Most international flights depart before noon and you'll be driven to the airport with plenty of time for check-in formalities. If you're headed on to Kaieteur Falls in Guyana you'll depart from the Zorg-en-Hoop municipal airport, while those making their way to French Guiana will take an early-morning one- to two- hour drive drive to Albina on the Moroni River before crossing over to France. Other international flights depart from Pengel International Airport.
We offer numerous options for extended exploration around Paramaribo, including two- and three- day trips to Galibi to observe the leatherback turtle nesting beaches, day trips to local swamps and tidal areas with extraordinary birdwatching opportunities, deeper exploration into historic plantations and fortresses, and privately curated/guided tours to visit local artists, musicians, and cultural programmes that are not commonly available to casual visitors.
Interested in art? A romantic bed and breakfast getaway? Let us know about your particular interests and we can assemble a customized extension or provide the introductions that will make your Suriname journey even more memorable.
COST: request for rates
For more information
Contact:
Dive Discovery
@
1 800 886-7321
(415) 444-5100
or
Request Info