Home > Dive Discovery Group Trips
The Eternal Himalayas: Tour Nepal, Tibet & Bhutan, October 2017 Group Trip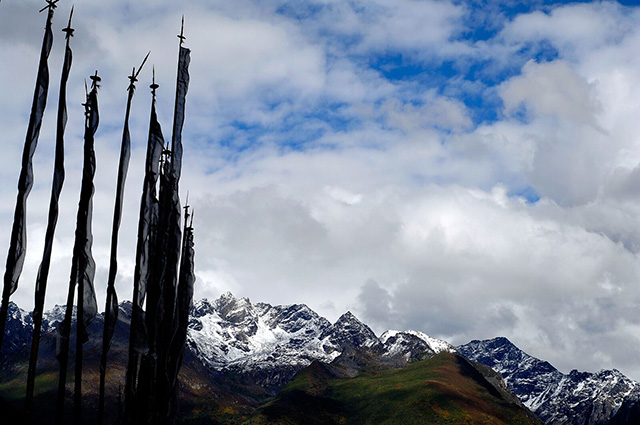 Experience the three great kingdoms of the Himalayas - Bhutan, Nepal, and Tibet - and their unique cultures and traditions.
Discover Bhutan, one of the most tradition-rich lands in the world, with its beautiful folk art
Explore exotic Kathmandu, home to elaborate Hindu temples, Buddhist stupas, and fascinating bazaars
Visit Tibet's monasteries and the long-forbidden closed city of Lhasa, and meet Tibetans in their rapidly-changing homeland
We choose to begin in mid-October when the brunt of tourists have left Tibet!
Highlights:
The ancient art, culture, and history of Nepal
The architecture of Temples and Monasteries
Potala Palace, impressive chief residence of Dalai Lama till 1959
Peaceful & serene waters of Yamdrok lake
The spectacular fortress of Thimphu
The iconic hike to 'Tigers Nest'
The stunning view of Dochula
Itinerary
Day 01 - Kathmandu Arrival
Kathmandu is the capital and largest urban agglomerate of Nepal. The agglomerate consists of Kathmandu Metropolitan City at its core and its sister cities Patan, Kirtipur, Thimi, and Bhaktapur.
On arrival at the Kathmandu Tribhuwan International airport (International flight is to be booked and issued at your end), you will be met and assisted to "Hotel Yak & Yeti".
Hotel Yak and Yeti, is a 5-star deluxe hotel in the heart of Kathmandu, Nepal. Modern day sophistication greets cultural heritage in the ample grounds of the 100-year-old palace and newly designed structure of the hotel. Find refuge among antique fountains, gilded temples and emerald gardens as you remain just moments away from all the shops and adventure of the Kathmandu city, located at Durbar Marg and little further the Kathmandu/s tourist hub, Thamel.
Spend two overnights at Hotel Yak & Yeti. Accommodation is in a Deluxe Room with ensuite facilities. Your stay is on bed and breakfast basis.
| | |
| --- | --- |
| | |
| Hotel Yak & Yeti | Deluxe Room |
Day 02 - Kathmandu - Visa Processing
This morning you will embark on sightseeing tour of Bhaktapur.
Bhaktapur known as the 'City of Devotees', the 'City of Culture', the 'Living Heritage', and 'Nepal's Cultural Gem'. It is one of the 3 royal cities in the Kathmandu Valley. Bhaktapur is filled with monuments, most terra-cotta with carved wood columns, palaces and temples with elaborate carvings, gilded roofs, open courtyards. The city is dotted with pagodas and religious shrines. Lying along the ancient trade route between India and Tibet, Bhaktapur is surrounded by mountains and provides a magnificent view of the Himalayas.
After lunch at Bhaktapur, continue tour of Pashupatinath Temple and Bodhnath Stupa.
Pashupatinath Temple is one of the most significant Hindu Temple of Lord Shiva in the world, located on the banks of the holy Bagmati river in the eastern part of Kathmandu, the capital of Nepal. The temple serves as the seat of the national deity, Lord Pashupatinath (Lord Shiva). The temple is listed in UNESCO World Heritage site.
Boudhanath Stupa (or Bodhnath Stupa) is the largest stupa in Nepal and the holiest Tibetan Buddhist temple outside Tibet. It is the center of Tibetan culture in and rich Kathmandu in Buddhist symbolism. The stupa is located in the town of Boudhnath, on the eastern outskirts of Kathmandu.
Dinner at a local restaurant.
| | |
| --- | --- |
| | |
| Nyatapola Temple | Bhaktapur |
Day 03 - Kathmandu - Lhasa
This morning you will be transferred to the International airport for approx. 1.5 hrs flight to Lhasa.
Air China flight CA # 408 departing Kathmandu at 11:40 hrs arriving Lhasa airport at 15.25 hrs.
On arrival at Lhasa airport our rep will meet the group, assist with baggage and transfer to Four Points by Sheraton Lhasa - approx. one hour drive.
Situated in eastern Lhasa city, Four Points by Sheraton Lhasa is on the Lhasa River and faces Jiangsu Avenue. Our great location is a 10-minute walk from the Jokhang Temple and Barkhor Street and only eight-minute drive from the Potala Palace. Get Comfortable. Our 102 guest rooms, including three suites, are warm and inviting with a contemporary design. Enjoy the comforts of home, like a 32-inch flat screen LCD TV, free High Speed Internet Access, the dreamy Four Points by Sheraton Four Comfort (SM) Bed, and more. Service with a Smile. Our friendly professional staff will make sure your stay is comfortable and unforgettable. Relax in our beautiful courtyard, designed in Southeast Asian style, or enjoy a great meal in our restaurant.
Spend three overnights at Four Points by Sheraton Lhasa. Accommodation is in a Standard room with ensuite facilities. Your stay is on bed and breakfast basis.
| | |
| --- | --- |
| | |
| Four Points by Sheraton Lhasa | Standard Room |
Lhasa - The city of Lhasa, situated at an altitude of 3607 metres (11,808 feet) lies on the north bank of the Kyichu river in the province of U (Central Tibet). Two high craggy hills stand up in isolation from the Valley floor. One, Red Hill, is topped by the Potala Palace and the other, Chokpori or Iron Hill, is crowned by a trail antenna.
Lhasa consists of two distinct parts consisting of different architecture, population and lifestyle. Old Lhasa, the Tibetan section, centres on the Jokhang Temple. Its streets are narrow, between whitewashed stone whose walls slope inwards as they rise. Windows are framed in black trapezoids, with protruding fan shaped eaves above. Many houses have brightly painted woodwork.
Day 04 - Lhasa
Today visit Jokhang Temple, which is Tibet's most sacred shrine, the focal point of pilgrims from the entire Tibetan plateau. After the visit we'll meet the famous Tibetan doctor and get a private seminar in Tibetan medicine at Tibetan Medicine academy. (across Jokhang Temple). Afternoon visit Sera monastery and watch the tantric debate in the monastery garden.
The Tantric debates among monks on the Buddhist doctrines are integral to the learning process in the colleges in the Sera Monastery complex. This facilitates better comprehension of the Buddhist philosophy to attain higher levels of study. This exemplary debating tradition supplemented with gestures is exclusive to this monastery, among the several other monasteries of Lhasa. Visitors also attend to witness these debates that are held in the 'Debating Courtyard' of the monastery. The debate among monks unfolds in the presence of their teachers, with a very well set rule of procedure for the defender and the questioners. The tradition of such debates is traced to the ancient 'Hindu Orthodoxy' in India and this practice permeated into Buddhist orthodoxy in Tibet in the eighth century. Such debates usually take place within the monastery's precincts.
| | |
| --- | --- |
| | |
| Jokhang Temple | Tantric Debates |
Day 05 - Lhasa
Today visit Potala Palace, the 13-storeyed edifice was among the world's tallest buildings prior to the advent of the 20th century skyscraper, and the grandest building in Tibet. In terms of global perception, it is this relic of Tibet's past, present, and future national aspirations, more than any other, which uniquely symbolizes Tibet, like the Great Wall in China or the Vatican in Italy.
In the afternoon, half-day hike in Lhasa to the Lingkhor (approx. 3 hrs)
The Lingkhor is a sacred path, the most common name of the outer pilgrim circumambulation path in Lhasa, matching its inner twin, the Barkhor. In its heyday, the Lingkhor was about 8 kilometres (5.0 mi) long, enclosing Old Lhasa, the Potala and Chokpori Hill. In former times, it was crowded with men and women circumambulation clock-wise, sometimes by means of full-body prostrations. Pilgrims often approached the holy city for the first time by this route which passed through willow-shaded parks where Tibetans used to picnic in summer and watch open-air operas on festival days.
Later visit Tibet school for blind, the kids there speak perfect English, so guests can have direct interaction with them.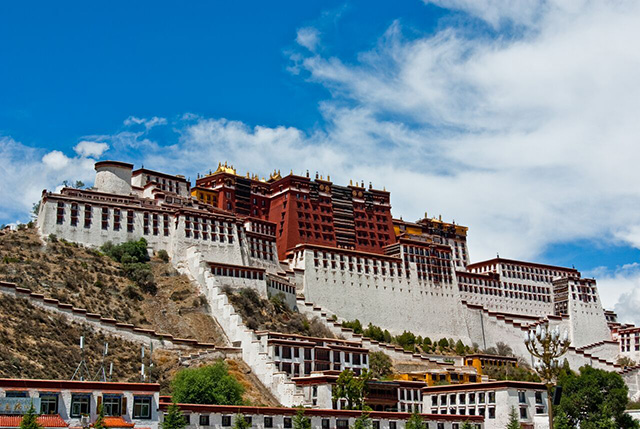 Potala Palace
Day 06 - Lhasa - Gyantse - 5-6 Hrs Drive
Holy Yamdrok-Tso Lake lies in Nangartse County, about 100 kilometers southwest of Lhasa and easily accessible. Yamdrok Tso is traditionally first seen from the summit of the Khamba-la, which is at an altitude of 4,794 m (15,728ft). Surrounded by high mountains, its water is so clear that you can watch fish playing under. The sky surrounding Yamdrok-Tso is clear with white clouds often "floating" above it. A day trip to Yamdrok lake with special catered lunch by the Lake. Continue to Gyantse. the town has preserved much of its old-world atmosphere, and Tibetan rural life continues here, virtually unchanged, against a back drop of magnificent 14-15th century fortresses and temples. First we will visit Pelkhor Chode Temple Complex and Gyantse Dzong (the Fortress of Gyantse). Then we will explore Gyantse Kumbum, one of Tibet's outstanding artistic achievements, was built and decorated between 1427-39, which combines a terraced stupa exterior with multi-layered interior chapels.
Spend one overnight at Gyantse Hotel. Accommodation is in a Standard room with ensuite facilities. Your stay is on bed and breakfast basis.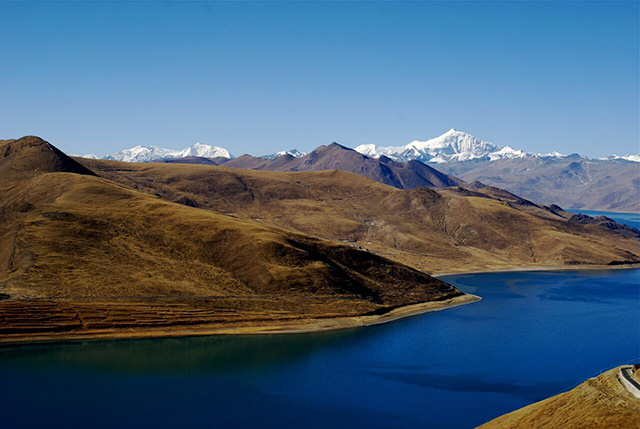 Yamdrok-Tso Lake
Day 07 - Gyantse - Shalu Monastery - Shigatse - Approx 2 Hrs Drive
Today we drive west to the city of Shigatse (91 kilometers), commanding the confluence of the Nyang-chu and Brahmaputra rivers; It is Tibet's second largest city. About 50 km leaving Gyantse, we'll approach Shalu Monastery, you will pass on the right the smaller two-storied Gyengong Lhakhang, said to be the first temple built in Tibet at the beginning of the later diffusion of Buddhism in 997. After lunch visit Tashilunpo Monastery, the seat of the Panchen Lamas, the Dalai Lama I founded it in 1447. It is counted among the six largest Gelukpa monasteries, formerly housing 4700 monks at its peak; it has the appearance of a monastic city. We will stroll around Shigatse Flee market before heading to the hotel.
Spend one overnight at Manasarovar Hotel. Accommodation is in a Standard room with ensuite facilities. Your stay is on bed and breakfast basis.
| | |
| --- | --- |
| | |
| Shalu Monastery | Tashilunpo Monastery |
Day 08 - Shigatse - Lhasa - 5 - 6 Hrs Drive
Today we drive back to Lhasa. Visit Drepung monastery enroute.
Drepung Monastery is situated at the foot of the Mountain Gambo Utse, 5 kilometers from Lhasa. It is known as the most important monastery of Gelugpa in Tibetan Buddhism. It is considered one of the 'Three Great Monasteries' (the other two are the Ganden Monastery and the Sera Monastery). Seen from afar, its grand, white construction gives the appearance of a heap of rice. As such, it was given the name 'Drepung', which, in the Tibetan language, means 'Collecting Rice'.
Later visit Pabongka monastery.
Pabongka Monastery is a great place to hike to but because of the already tiring long drive and time constraints, we will have to drive. It takes only approx 1.5 hour to drive whereas it is a 4 hrs hike.
Pabongka, Phabongkha or Pawangka means "giant stone palace" in Tibetan language and is situated about 9 kilometers (short taxi ride or walk for about an hour) away from west of Sera Monastery, north of Lhasa.
It was built by King Songtsen Gampo in the 7th century who founded the Tibetan empire. Pabongka Monastery is one of the most prehistoric Buddhist sites in the province of Lhasa and may date back even prior to the Jokhang and Ramoche temples. There are beautiful hillsides from where one can a great view of the Lhasa.
Spend one overnight at Four Points by Sheraton Lhasa. Accommodation is in a Standard room with ensuite facilities. Your stay is on bed and breakfast basis.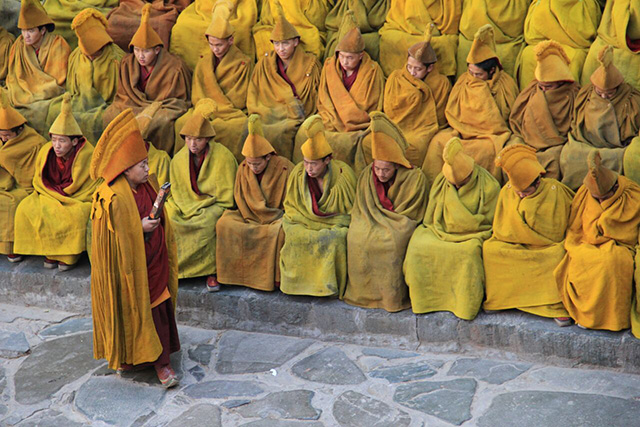 Day 09 - Lhasa - Kathmandu
This morning, you will be transferred to the Gongar airport for flight to Kathmandu.
Air China flight CA # 407 departing Lhasa at 12:10 hrs arriving Lhasa airport at 16.00 hrs.
On arrival you are met and transferred to your hotel.
Lunch at the hotel.
Dinner at a Nepali restaurant.
Spend one overnight at Hotel Yak & Yeti. Accommodation is in a Heritage Deluxe room with ensuite facilities. Your stay is on bed and breakfast basis.
Day 10 - Kathmandu - Paro - Thimphu
This morning board your flight to Paro, Bhutan's' only international airport. The flight into Bhutan takes you close to the great Himalayas; offering dazzling scenic views of some of world's highest glacial peaks. As you enter the Paro valley, you will pass forested hills with the slivery Pa Chu (Paro River) meandering down the valley below with the Paro Dzong (fortress) and Ta Dzong (watch tower) on the hill above the town.
As you exit from the arrival hall of Paro airport, you will be met by your guide and chauffeured to your hotel in Thimphu (1 hour drive). En-route stop to visit the Tamchogg Lhakhang and marvel at the iron bridge reconstructed using original chain links from the famous Tibetan bridge builder Thangtong Gyelpo.
Drive onwards to your hotel for check in and a short rest.
Later in the evening, drive to visit the Tashichho Dzong Bhutan's administrative and religious centre (open from at 9 AM to 4 PM for visitors during Saturdays and Sundays and from 4 PM till 5:30 PM on weekdays). It houses the throne room of His Majesty the King of Bhutan, government ministries, the nation's largest monastery and headquarters of His Holiness the Je Khenpo (the chief abbot) and the central monk body.
Spend three overnights in Le Meridien, Thimphu.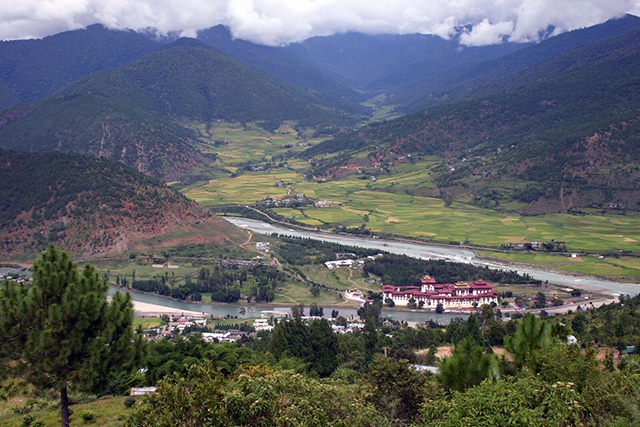 Bhutan
Day 11: Thimphu/Punakha/Thimphu
After breakfast, you will be chauffeured to Punakha (3 ½ hour's drive). The road climbs steeply through a scenic forest of pine and cedar trees, to Dochu La pass (10,000 feet). The pass offers panoramic views of the Himalayan mountain ranges, and then descends into the fertile valley of Wangdue (4,430 feet).
Stop on Dochu La to visit the 108 stupas built on this 3,150 metre high pass in honor the fallen Bhutanese soldiers. Later visit the Druk Wangyel Lhakhang, built by Queen mother Her Majesty Ashi Dori Wangmo Wangchuk and was built in honor of His Majesty the fourth Druk Gyalpo, Jigme Singye Wangchuck.
Well before reaching Punakha stop en route and hike about 30 minutes to the Chimi Lhakhang on a small hilltop. The temple was dedicated to the great Yogi in the 14th century, known as Drukpa Kuenley, as well as the "Divine madman." He dramatized Buddhist teachings using songs. It is believed that this temple blesses women who seek fertility.
Drive onwards toward Punakha stopping enroute to visit the Punakha Dzong. Placed strategically at the junction of the Pho Chu and Mo Chu rivers, the dzong was built in 1637 by Shabdrung Ngawang Namgyal to serve as the religious and administrative centre of the region. Damaged over the centuries by four catastrophic fires and an earthquake, the dzong has been fully restored in recent years by the present monarch.
Afterwards drive back to Thimphu, check in and rest.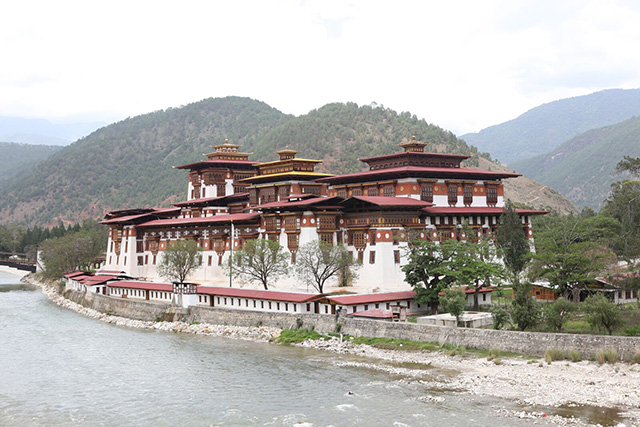 Punakha Dzong
Day 12: Thimphu
Begin the day with a visit to National Memorial Chorten: This landmark of Thimphu was built in 1974 in the memory of third King, Jigme Dorji Wangchuk, who is popularly regarded as Father of Modern Bhutan. It is a four-storey tall white building, containing statues and iconography of deities from complex tantric teachings and serves as an important place of worship for Thimphu residents, as well as from other parts of the country.
Then drive to visit the Buddha Dodernma - a gigantic Shakyamuni Buddha statue. The statue is filled with over one hundred thousand smaller Buddha statues, each of which, like the Buddha Dordenma itself, but made of bronze and gilded in gold. At a height of 51.5 metres, it is one of the tallest Buddha statues on the world.
Onwards, drive to visit the Folk Heritage Museum - a three storied, 19th century traditional house which provides a glimpse of the Bhutanese lifestyle, and artifacts from the rural households. One can come across typical household objects, tools and equipment.
This can be followed by the visit to the National Library, which holds a vast collection of Buddhist texts and manuscripts, some, dating back several hundred years, as well as modern academic books mainly on Himalayan culture and religion.
Return to the hotel for lunch or at a local restaurant.
After lunch, drive to northern end of Thimphu valley and stop at short distance beyond the turn-off to Tango Goemba, the road ends at Dodena (elevation 2600m). A walk of about 1.5 hours leads to Cheri Goemba (Cheri Dorji Dhen) optional visit. The trail starts by crossing a lovely covered bridge that spans the Wang Chhu, then climbs steeply to the monastery. Zhabdrung Ngawang Namgyel built this Goemba in 1620 and established the first monk body here. A silver chorten inside the Goemba holds the ashes of the Zhabdrung's father.
Later return to your hotel.
Day 13: Thimphu/Paro
This morning post breakfast you will be chauffeured to Paro (1 hour drive).
Paro is a historic town with many sacred sites and historical buildings scattered through the area. It is home to many of Bhutan's oldest temples and monasteries, National Museum and country's only airport. Mount. Chomolhari (7,314m) reigns in white glory at the northern end of the valley and its glacial water plunge through deep gorges to form Pa Chhu (Paro river). Paro is also one of the most fertile valley in the Kingdom producing a bulk of the locally famous red rice from its terraced field.
On entering the town, stop enroute to visit the National Museum. The museum collection includes ancient Bhutanese art and artifacts, weapons, coins, stamps and a small natural history collection.
Then walk down a hillside trail to visit Rinpung Dzong (Paro Dzong) situated at a commanding height overlooking Paro valley. Built by Shabdrung Ngawang Namgyal in 1646, this Dzong now houses Paro's monk body at the offices of the civil administration and is symbolic as the religious and secular center of all affairs of the valley.
Later continue onwards to your hotel for check in and a short rest.
Later in the afternoon, drive before doing the short walk to visit the Floating statue of Chumphu Nye. The Floating Statue at Chumphu Nye in Paro is another wonder site in Bhutan. The main statue of the temple is Dorje Phagmo (Vajravarahi) which is mysteriously standing on air. Apparently, the statue is not resting; it is floating in the air. It is floating because the statue is Dorji Phamo who appeared in person and turned herself to a statue.
Spend two overnights in Le Meriden Hotel, Paro.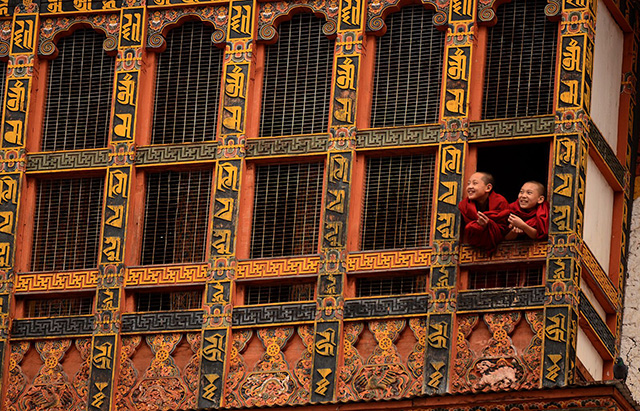 Day 14: Paro
After an early breakfast, take a short drive to the north of Paro Valley to Ramthankha, from where you start your hike to the Taktsang Monastery (Tiger's Nest). The trail climbs through beautiful pine forest, many of trees festooned with Spanish moss and an occasional grove of fluttering prayer flags. Legend has it that Guru Rimpoche, founder of Buddhism flew from Eastern Bhutan on a tigress, bringing Buddhist teachings and meditated here in this cliff. This is one of the most venerated and sacred of all Buddhist sights around the world.
Afterwards, walk down to Taktsang cafeteria for a short break and tea. Walk downhill to the car park to return to the hotel for rest and lunch.
Later in the afternoon, drive to visit the Local Farmhouse. It is a traditional village house. The beauty of Paro valley is embellished by cluster of old fashioned farm houses. Bhutanese farm houses are very colorful, decorative and traditionally built without the use of single nail. All houses follow the same architectural pattern. A visit to Farm House is very interesting and offers a good glimpse into the lifestyle of a farmer. You can try the traditional hot stone bath and also get to play the traditional Bhutanese Archery at the Farmhouse. If you are up to a challenge for a hot Bhutanese Cuisine, then you may also experience the traditional Bhutanese meals and the local wine known as "Ara" in Bhutanese language.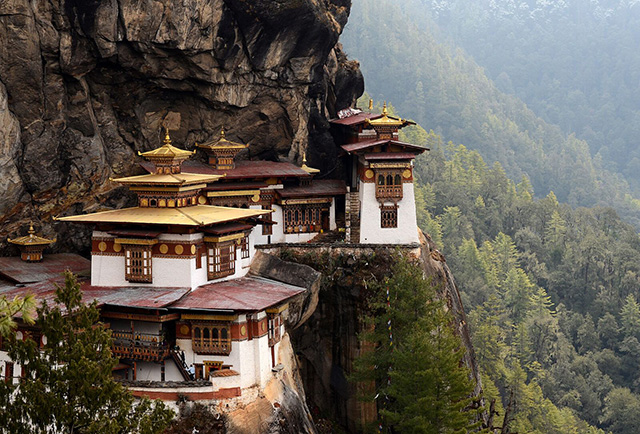 Taktsang Monastery (Tiger's Nest)
Day 15: Paro/Outbound
This morning, you will be transferred to the Paro airport to board your onward flight.
---
NEPAL ENTRY / VISA REQUIREMENTS
Tourist Visiting Nepal is eligible for The Tourist Visa on Arrival at the Port of Entry. As for all international travel, the visitor to Nepal is required to be in possession of a valid passport and visa. Tourists holding the passport of Nigeria, Ghana, Zimbabwe, Swaziland, Cameroon, Somalia, Liberia, Ethiopia, Iraq, Afghanistan and Palestine are not eligible for on arrival visa at the Port of Entry. It is issued and may be extended at a time or several times, till the visit but not exceeding 150 day in one year from January to December.
Single and multiple entry facilities are available with the Visa. However, Plain Visa is also available at the time of extension.
Visa fee are as below:
a) US$ 25 for 15 days Visa
b) US$ 40 for 30 days Visa
c) US$ 100 for 90 days Visa
TIBET VISA REQUIREMENTS
Tibet visa is processed in the Chinese Embassy in Kathmandu from Monday to Friday only, hence guest needs to arrive Kathmandu at least 2 days before departure for Tibet so that the visa can be processed the next day and enter Tibet on the third day.
Normal visa processing takes one week, but it can also be done in one day by paying urgent surcharge. Please note while entering Tibet from Kathmandu, there is no need to obtain Chinese visa. The visa that is obtained in Kathmandu is good for travel in Tibet. In fact, if they have Chinese visa in the passport, it will be cancelled while issuing Tibet visa.
BHUTAN VISA REQUIREMENTS
As of all international travel, the visitor to Bhutan is required to be in possession of a valid passport and visa. Travelers from all countries need a visa. Visa for Bhutan will be arranged by &Beyond South Asia (Bhutan) office on receipt of the full payment for the tour.
N.B: Please carry few copies of passport size photographs as it is required for obtaining Nepalese and Tibet visa.
COST:
for 4 pax, is $7,820.00 pp
for 2 pax, is $10,530.00 pp
single supplement is $2,050.00
Additional Airfare (Kathmandu - Paro - Bangkok) per person in economy $650.00
COST INCLUDES:
NEPAL
Accommodation on Double room sharing basis.
All meals starting from dinner on day 01 till breakfast on day 03 and lunch from day 09 till breakfast on day 10 for Nepal and Tibet Portion.
All transfers, sightseeing tours by air-conditioned car or van.
All city sightseeing with private guide including the entrance fees at all monuments.
Travel Journal
Mineral water on board during sightseeing tours and transfers only.
All current taxes as on date.
Airport departure taxes.
TIBET
Accommodation in a standard room.
All meals starting with lunch on day 03 and finishing with breakfast on day 09. The meals will be provided in the tourist class restaurants outside the hotel.
All transfers and sightseeing tours as shown in the itinerary with English speaking Tibetan guide using business van or Transit mini bus.
Flight Kathmandu/Lhasa/Kathmandu in economy class.
Monument entrance fees.
Yamdrok lake Conservation fee.
Airport transfers.
Mineral water on board during the tours and transfers.
First aid kit and Oxygen cylinder.
BHUTAN
Accommodation on SINGLE/DOUBLE OCCUPANCY in hotels as mentioned in the QUOTE.
All transfers as mentioned in a private vehicle appropriate to group size. Separate luggage van for group of 10 and more.
Mineral water throughout the trip.
Sightseeing tour will be provided as per the itinerary with the English speaking Bhutanese Guide and in a private Vehicle.
All entrance and monuments fees.
Visa fees for Bhutan only.
All current taxes as on date - subject to change as per hotel/airline/Government policy.
Air fare as mentioned in the quote above.
COST EXCLUDES:
Any change in tax structure resulting from the hike in published tariff.
Nepal visa
Tibet visa fee (US$ 175 per person including urgent processing fee) to be collected on arrival in Kathmandu.
Items of personal nature like tips , bar bills, laundry, phone calls etc.
Any video / still camera fee to the monuments and places of visit.
Any other item not explicitly mentioned under price includes.
Any Insurance.
Any cost of the meals other than the one indicated in room meal plan.
For more information
Contact:
Dive Discovery
@
1 800 886-7321
(415) 444-5100
or
Request Info