Home > Diving Galapagos > Galapagos Liveaboards
M.Y. Wolf Buddy & M.Y. Darwin Buddy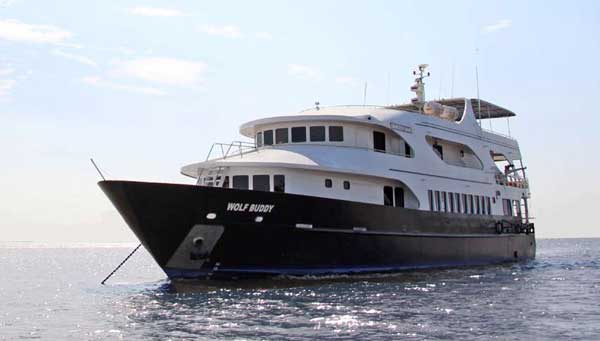 Our Yachts
Smooth, stylish, spacious and comfortable, M.Y. Wolf Buddy and M.Y. Darwin Buddy, the newest and most spacious liveaboard dive-yachts in the archipelago of Galapagos, are much more than just two floating hotels.
The two 120 Feet (36 m) long yachts with 4 decks, which form Buddy Dive's Liveaboard's fleet, are custom designed by Buddy Dive and Varadero Maridueña in Guayaquil, Ecuador, which took them 12 months to design and 11 months to build. Both yachts are equipped with cutting edge equipment that includes a fire control system, life saving appliances, and a state of the art navigation and communication system. Excellent craftsmanship resulted in two yachts that will take care of giving the guests the assurance of enjoying an unforgettable holiday and plenty of memorable dives.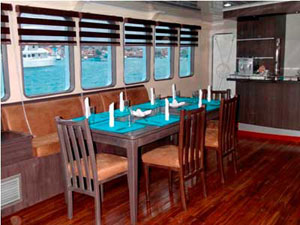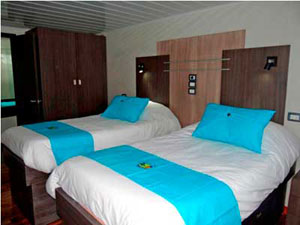 The suites, "very inviting after a beautiful day of diving"
Upon boarding, guests are welcomed by the friendly and experienced local crew at the airport in San Cristobal. Before our team starts with the boat orientation and safety briefing, which will provide you with all the required information about the trip and dives to come in Galapagos waters, we will assign the suites (minimum of 161 square feet, or 15 square meters).
All suites are air conditioned, have their own private bathroom and are serviced multiple times per day. They are equipped with an entertainment system that includes a flat-screen monitor and a DVD player. The comfort of the furnishings makes these suites very inviting after a beautiful day of diving.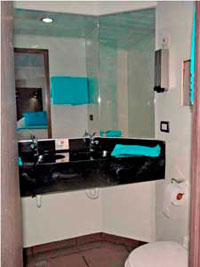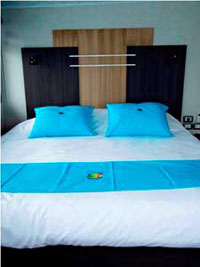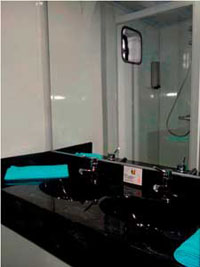 The diving, "A memorable experience"
When the guide is finished with the boat orientation and safety briefing, it's time to set up your gear and get into the ocean for a checkout dive at Isla Los Lobos. During checkout dives guides will assist you with buoyancy, weights, and with everything else you may need including a double-check of all your dive equipment and you will be accompanied by several sea lions.
After completing the checkout dive, divers will be ready to explore the pristine Galapagos waters on unforgettable dives.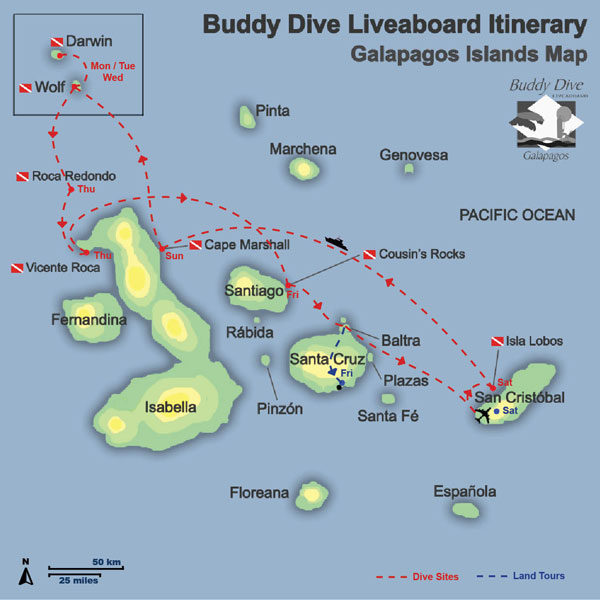 Buddy Dive Liveaboard Itinerary [pdf file]
With 30 years of experience and practice from Buddy Dive Resort Bonaire, Buddy Dive Liveaboard Galapagos ensures that all dives are enjoyable and safe. The professional diving instructors and guides on board are always available to assist in any possible way and to present comprehensive pre-dive briefings.
The dive deck consists out of two separate sections. One section can be closed on cooler days and will be heated after dives. It is designed to perfectly meet a diver's expectation. With plenty of space setting up the diving gear is easy. After returning from a dive, expect a warm towel, use one of four available showers on deck, and relax at the lounge and bar area, which is directly connected to the dive deck. Divers with underwater camera equipment can use a custom-designed camera table and camera rinse tanks. The dive deck also includes two public toilets and four rinse tanks.
Diving in Galapagos waters is not for the beginner diver because of the strong currents. To minimize risk and, moreover, for your own safety, divers are asked to complete a dive application form that states your diving experience, level of certification and medical condition.