Home > Diving Cuba > Cuba Land Tours
Havana Cultural Research 4 Nights / 5 Days
Escape to Havana & explore it your way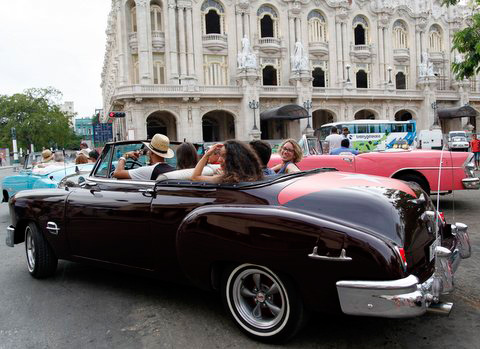 Enjoy 5 days, 4 nights in the enigmatic, stunning capitol of Cuba. Evaluate traditional salsa rhythms in a cultural cabaret show. Assess the faint ocean spray by the Malecon sea wall while riding in a 1950's American antique car. Taste & review authentic food from local private entrepreneurs. Discover your story with a full time research schedule for the 2nd edition of the Cuba Scuba guidebook.
COST: Please request for rates
Ground Package
What is Included:
4 Nights in a Havana 5-star rated Historic Mansion
Full authentic breakfast with Cuban Coffee and fresh exotic fruit
Airport Ground Transfer
Traditional Cabaret Show at the iconic Hotel Nacional
1950s American Antique Car Ride
Panoramic Tour of Havana, Vedado & Miramar
Havana / Vedado Architectural Walking Tour past John Lennon Park
Art Show Tickets to Fabrique (new exhibits change quarterly, so we are in constant need of research & reviews)
Farewell Lobster Dinner & Alcoholic Drink
Use of Private Havana Tour Guide & English Speaking Concierge
Choose Your Activities/Schedule from Our List of Research Assignments Needed for Updating Our Latest Book
Customized, Official Letter of Assignment to Travel to Cuba pursuant to the U.S. Department of the Treasury General License 515.564 (a)(1) *
Optional:
Extend your stay for just $45 per night, per person (including breakfast).
* Not included: Round Trip Airfare & Cost of Cuban Visa. Some meals in Havana, Tips, Trip insurance, Dive insurance, Health insurance. All pricing is based on double occupancy.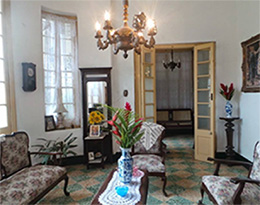 Flight Package (additional)
Cuba Scuba Tours can help you find the best flight package to Havana for your trip. Depending on the dates of travel and which airport you're traveling from, flights starting from $454 round trip per person (in addition to your ground package).
Where You Stay: Havana Five-Star Private Bed & Breakfast
Enjoy 4 nights in the prestigious neighborhood of Vedado at one of our hand-picked, classy, five-star rated bed and breakfasts built in the 1920's. Meticulously and lovingly restored, a Havana historic mansion will be your home base to topside exploration and cultural research. The best part is your English speaking host and private concierge.
Sample Itinerary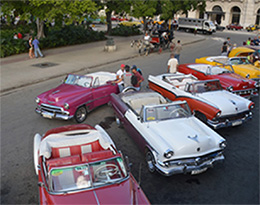 Day 1: Arrive Havana
Feel the exhilaration and excitement as you step off the plane in CUBA! Look for your personal name as you exit the Jose Marti airport where your private airport transfer will be waiting to take you to your historic Havana mansion. Relax & refresh while you take in your surroundings. Take a walking tour through Vedado's Lennon Park. Enjoy dinner & cocktails(on your own) at one of our recommended private restaurants just a 5-minute stroll away.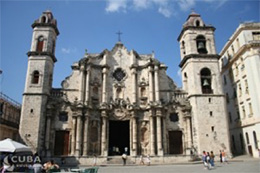 Days 2-3: Cultural Research
Begin exploring the nostalgic city with an open air panoramic tour of downtown and explore Havana (tickets included). Choose from our list of cultural research activities such as a visit the plaza de la Catedral, Hemmingway spots (purported to be where the Mojito and the Dacquiri were invented), the Museum of Rum, the Museum of the Revolution, Parque Central, a Cuban market, and the action in old Havana and much more. Your prescribed research and map (included) make it easy to get around.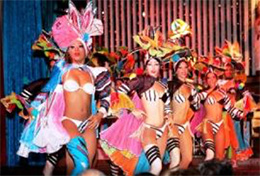 Day 4: Cultural Celebration
Continue your research discoveries on your last full day in Havana. Celebrate with a fairwell lobster dinner and alcoholic drink. Let your soul be delighted with the live cultural music as you dine. (included). Take a ride in an antique 1950's American car on the way to the iconic Hotel Nacional, overlooking the famous Malecon sea wall (pegged as one of the 1,000 places in the world to visit before you die). Take in the surreal, Cuban cabaret show while you're there and have a toast to Cuba! (show tickets & transfer included)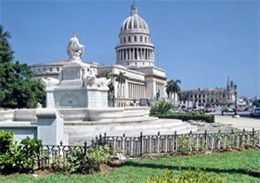 Day 5: Depart
Delight in your last Cuban breakfast for a while. Your private transfer will take you to Jose Marti airport in plenty of time for your flight. Don't worry, you'll be ready to come back again soon!
For more information
Contact:
Dive Discovery
@
1 800 886-7321
(415) 444-5100
or
Request Info