Home > Diving Cuba > Cuba Dive Tours
Maria la Gorda Research, 7 Nights / 8 Days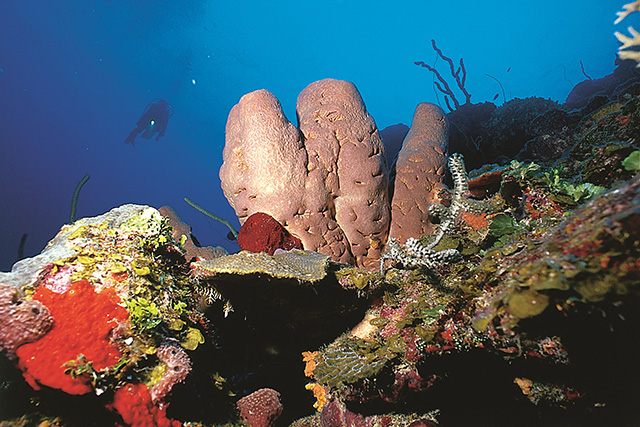 Spend 3 nights in vibrant Havana and enjoy 4 nights diving from your jungle bungalow in the remote retreat of Maria la Gorda.
Drive through lush patches of tobacco plants past Jurassic outcroppings. You're on the way through Pinar del Rio on your way to pristine diving in Maria la Gorda where international photographers and marine biologists unite. A deep blue abyss descends below a vertical wall of coral, with protruding sponges, timid lobsters and schools of juvenile parrot fish are streaming by.
You're not in Cozumel. You're not in the Caymans. You're not in the Red Sea. You're in Maria la Gorda, Cuba!
Itinerary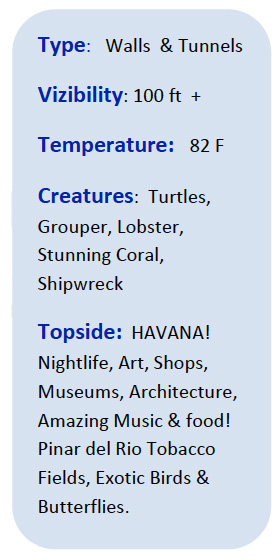 Day 1: Arrive Havana (Jose Marti airport) & Cultural Research
Ground transfer to your historic, private Bed & Breakfast (included)
Cultural research & private restaurant exploration
Walking tour through Vedado & John Lennon Park
Lunch & dinner on your own (favorites & recommendations provided)
Day 2: Transfer to Maria la Gorda & Dive Research
Authentic Cuban coffee & traditional breakfast at your B & B (included)
Depart Havana 7:30am. Drive through lush tobacco fields, Jurassic cliff outcroppings and remote jungle - about 4.5-5.5 hour drive (included)
Afternoon check-out dive (included)
Dinner buffet (included)
Day 3: Dive Research in Maria la Gorda
Breakfast buffet (included)
Two tank dive (included)
Lunch on your own / ala carte
One tank dive (included)
Dinner buffet (included)
Day 4: Dive Research in Maria la Gorda
Breakfast buffet (included)
Two tank dive (included)
Lunch on your own / ala carte
One tank dive (included)
Dinner buffet (included)
Day 5: Dive Research in Maria la Gorda
Breakfast buffet (included)
Two tank dive (included)
Lunch on your own / ala carte
One tank dive (included)
Dinner buffet (included)
Day 6: Transfer to Havana & Cultural Research
Breakfast buffet (included)
1:30pm transfer to your Havana historic private Bed & Breakfast (included)
Cultural research & private restaurant exploration
Dinner on your own (favorites & recommendations provided)
Fabrique art show & night club (tickets included)
Day 7: Cultural Research & Exploration in Havana
Authentic Cuban coffee & traditional breakfast at your B & B (included)
Cultural research activities & exploration in the city
Lunch on your own (favorites & recommendations provided)
Fair Well Lobster Dinner& alcoholic drink (included)
1950's antique car ride (included)
Traditional Cabaret Show at Hotel Nacional (included)
Day 8: Depart Havana (Jose Marti Airport)
Authentic Cuban coffee & traditional breakfast at your B & B (included)
Ground transfer to the airport included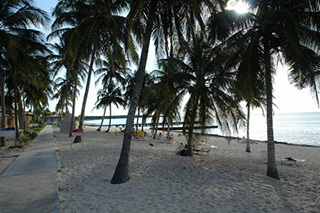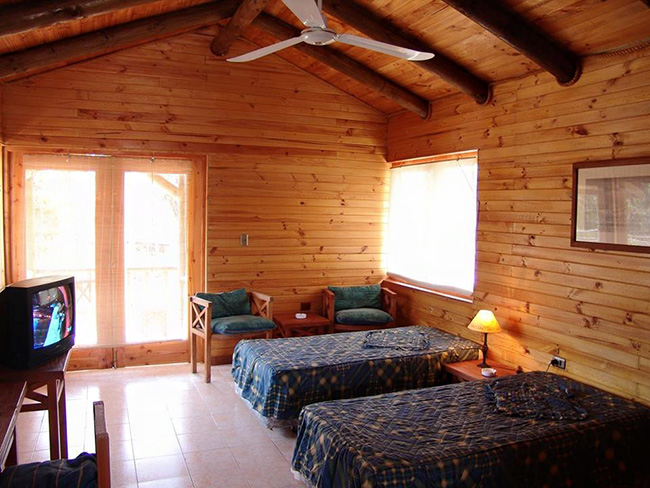 What's Included:
3 Nights in a Havana Historic Private Bed & Breakfast
4 nights in Maria la Gorda's Remote Jungle Bungalow
10 Boat Dives
Unlimited Snorkeling
14 Meals (including 11 buffets in MLG, 3 breakfasts, and 1 dinner in Havana)
Ground Transfer Havana-Maria la Gorda-Havana
Farewell party (includes lobster dinner, alcoholic drink)
Traditional cabaret show at the iconic Hotel Nacional
A 1950's antique American car ride
Art Show & Night Club Tickets to the New Fabrique
Use of Private Havana Tour Guide & English Speaking Concierge
Choose Activities/Schedule from Our List of Research Assignments Needed for Updating Our Latest Book.
Customized, Official Letter of Assignment to Travel to Cuba under the U.S. Department of the Treasury General License **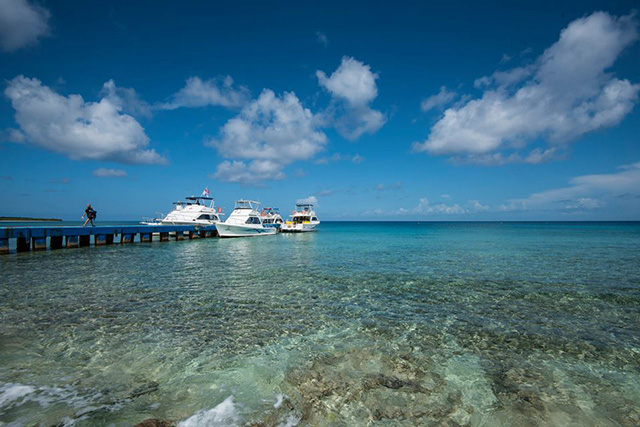 For more information
Contact:
Dive Discovery
@
1 800 886-7321
(415) 444-5100
or
Request Info