Home > Diving South Africa > South Africa Dive Tours
Sardine Run 2013
Port St John's, Wild Coast, Transkei, South Africa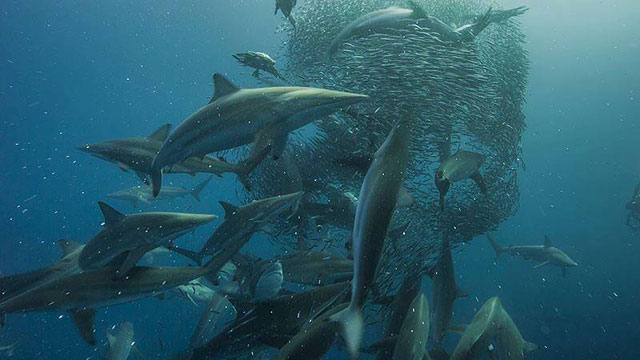 5 Days / 6 Nights Package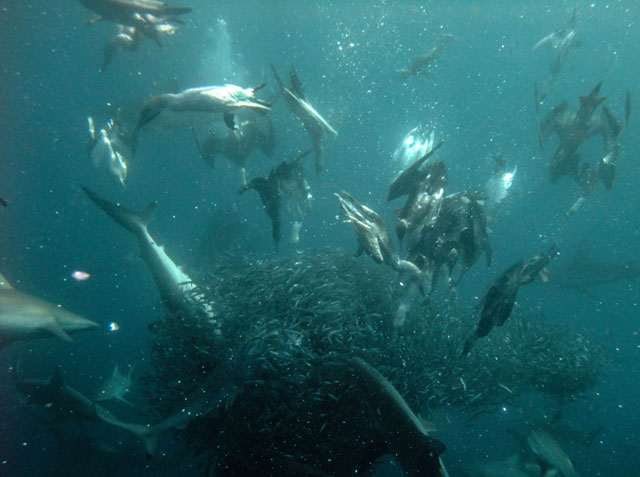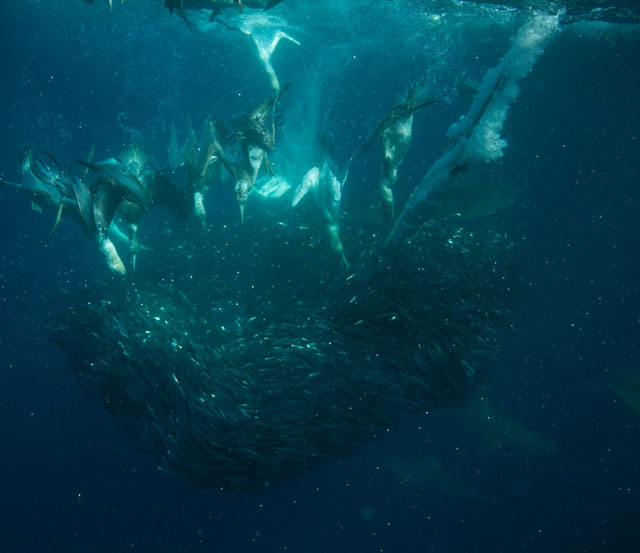 We offer a "home base knowledge" package for the Sardine Run from 16th June 2013 up to the 27th July 2013.
With our base here all year round, we are ideally located to offer you a superb, fun filled trip, coupled with a highly experienced sardine run specialist team of skipper and dive guide.
Based on past history of the sardine run and local sightings, we also bring you an extended time frame for sardine run 2013.
We offer a boat based adventure for everyone, whether a diver or non diver. All nature lovers, bird watchers, photography enthusiasts, dolphin and whale enthusiasts, snorkellers and scuba divers will thoroughly enjoy this incredible event of nature, which has been likened to the land based "Wildebeest migration of the Serengeti" and the marine equivalent of this has since been called "The greatest shoal on earth".
Please take a look at our sardine run trip info and join us for an experience of a lifetime in the most beautiful and scenic place of Port St John's, Wild Coast, Transkei.
PACKAGE INCLUDES:
5 full days of boat based viewing / diving / snorkelling the sardine run.
6 night's accommodation on a bed & breakfast rate. We would like you to enjoy your stay in Port St John's by getting a feel for this beautiful place and all that it has to offer by way of food and its people. There are many places to eat in the area.
Packed boat snacks & refreshments.
Cylinder & weight belt rental.
Highly qualified team of skipper & in water guide / boat guide
PACKAGE EXCLUDES:
Transfers to and from Port St John's. We can arrange this on your behalf if required. Kindly contact us for details and costs.
Lunch (if required) & dinner.
Equipment rental of BCD, Regulator, wetsuit, fins, mask & snorkel. We have a full range available should you require equipment. Kindly notify us up front to secure your equipment needs.
Items of a personal nature.
Beverages.
Gratuities.
2013 PACKAGE COSTS
ZAR 17 500.00 per person, approx USD 2200.00 per person. Price is based on a per person sharing rate
A single supplement rate of ZAR 19 250.00, approx USD 2420.00 will apply for single travelers
Based on current rate of exhchange and will be re-assesed at time of deposit and final payment
ACCOMMODATION OPTIONS
As we have a permanent base at Port St John's, we make use of a variety of accommodation establishments in town, which will cater to most needs. Our package rate is based on a medium / 2 -3 star, bed & breakfast type accommodation facility.
Please feel free, however, to ask us for suggestions / recommendations if you wish to organize your own accommodation on selecting the daily boat rate. If you are booking a sardine run package, we will make suggestions re accommodation.
Dates in 2013

From
To
16th June
22nd June
23rd June
29th June
30th June
06th July
07th July
13th July
14th July
20th July
21st July
27th July
Sardine Run Trip Information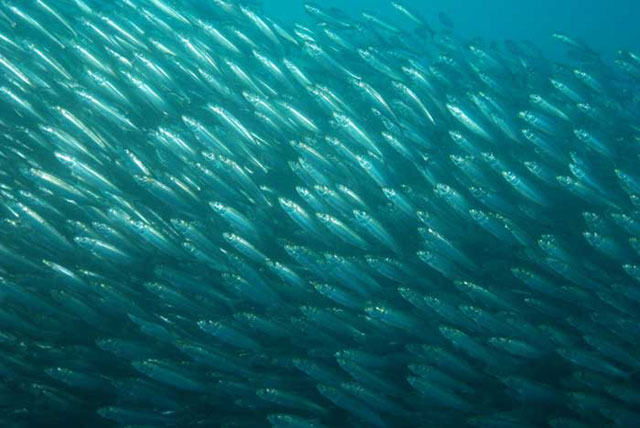 Trip Report: Sardine Run SOUTH AFRICA ~ June 21-30 2007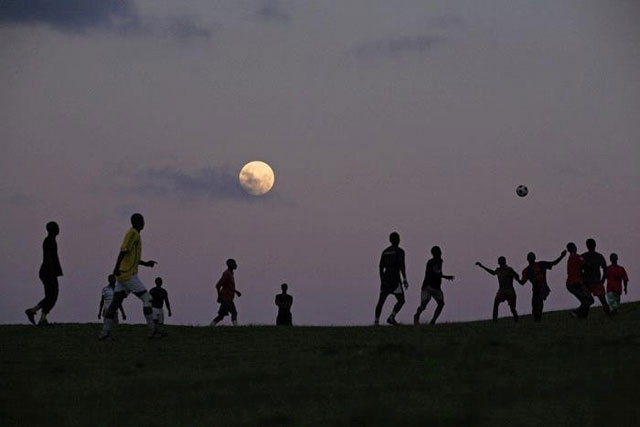 For more information
Contact:
Dive Discovery
@
1 800 886-7321
(415) 444-5100
or
Request Info