Home > Diving South Africa > South Africa Dive Tours
Great White Shark Cage Diving
Gansbaai, South Africa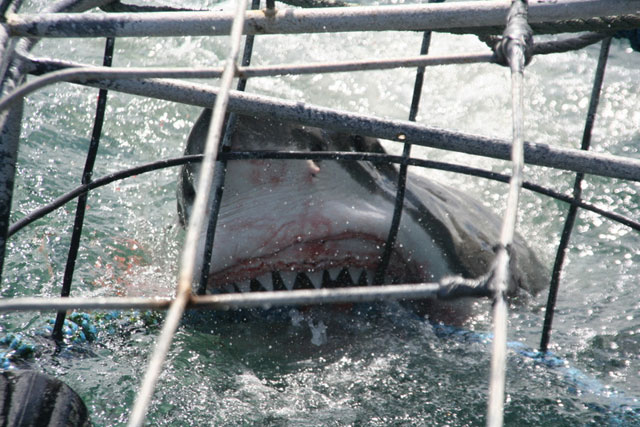 Gansbaai is the sleepy fishing town north east of Cape Town where the worlds greatest abundance of the much maligned marine predator the great white shark has been given a reprieve by being proclaimed a protected species. This has proven a remarkable environment for those of us who seek an adrenaline high adventure. Only 3 miles out to sea is a narrow channel between Geyser Rock, home to some 60,000 Cape Fur Seals, and Dyer Island forms the natural feeding ground to these powerful hunting machines -The Great White Shark.
Best Times
Great white shark cage diving is seasonal. The best time for great white shark cage diving is from June thru September.
What you can expect
Going Great White Shark Diving in South Africa and more specifically a trip on the Slashfin, is a combination of goosebump thrills, education and relaxation on a luxury boat in the company of experienced experts and researchers! They will show you how to distinguish between a male and female shark and how to identify a specific shark by its unique dorsal fin and scars. The 20 - 25 minute boat trip to where the activity is to take place, is by itself an exhilarating adventure.
Named after a legendary 3,3 m male shark with a very distinctive dorsal fin, the Slashfin is a unique, multi-million rand aluminium boat custom designed for speed, stability, safety and space and can comfortably accommodate 40 passengers and the crew at a time.
On any given day, we also usually see at least two or more members of the Marine Big Five - sharks, dolphins, whales, seals and penguins, as well as several bird species.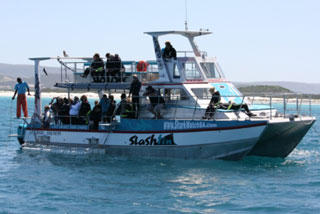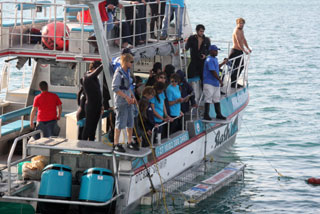 Here is a brief breakdown of what to expect:
Before the trip guests meet at the Great White House in Kleinbaai
You will receive breakfast or lunch and register your wetsuit size
Guests receive a pre-trip safety briefing about what to expect during the trip and a biological background on great white sharks
We then take a 200m stroll down to the harbour to board Slashfin
Travel time to Dyer Island is approximately 20 minutes, with the shallows being a short 10 minute ride (where we anchor depends on where the sharks are)
On average, we anchor for 2 hours, but this depends on shark activity, conditions, as well as number of divers
Weather permitting, we take a quick trip through the infamous Shark Alley
Lastly, a debrief in the Great White House and a celebratory beverage to toast the occasion!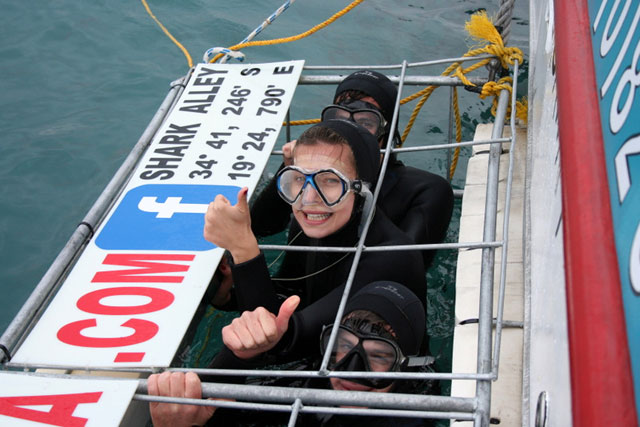 Grootbos Nature Reserve
Experience nature like never before with biodiversity and conservation in South Africa. Let our expert guides at Grootbos Nature Reserve introduce you to the wonders of the Fynbos of South Africa, the mysteries of the oceans and the treasures of the beach. Discover the fascinating relationships between the insects, birds, mammals and flowering plants of this diverse ecosystem. Smell the aromatic wild herbs, watch for exquisite birds and be awed by the scenery that surrounds you in this haven of biodiversity.
Visit a true Eden, all as a result of careful conservation of the areas natural biodiversity. Explore a meandering path through an ancient Milkwood Forest, where thousand-year-old trees send exploratory branches in search of sunlight, or visit one of the remnant Afro-Montane Forests on the reserve.
Great White Shark Cage Diving Adventures 5 minutes from Grootbos
"I Love Grootbos 5 star nature reserve, I have stayed here several times. It is one of the most amazing places in South Africa for relaxation, divine dining, natural environment, splendid hosts & great white sharks! The best time for great white shark cage diving is from June thru September."
Cindi LaRaia
For more information
Contact:
Dive Discovery
@
1 800 886-7321
(415) 444-5100
or
Request Info