PNG Cultural Tours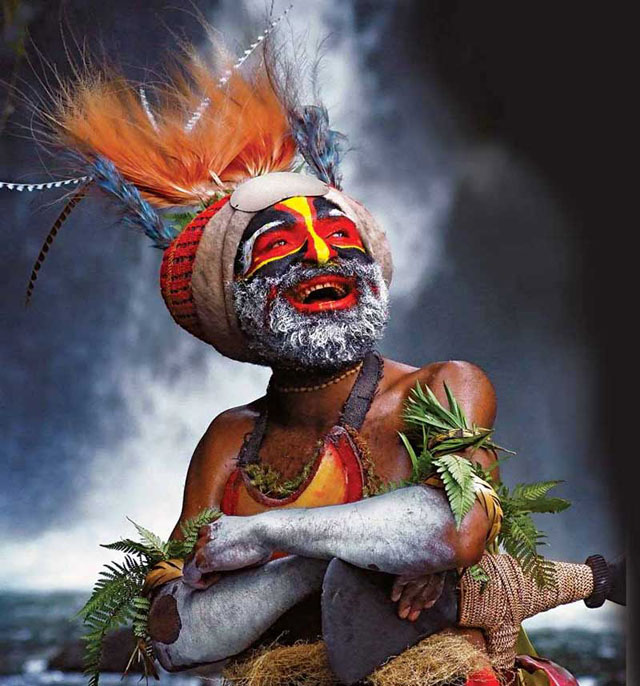 DISCOVER Papua New Guinea
Papua New Guinea is a country of adventure where you can enjoy experiences found no other place on earth. With over 800 individual languages and species of flora and fauna yet to be discovered, this truly is the land of the unexpected! Truly incredible adventures await and with so many different journeys to be had, you're sure to find one you'll never forget.
GEOGRAPHY
Papua New Guinea lies south of the Equator, just north of Australia. Apart from the mainland, Papua New Guinea comprises of a remarkable collection of islands, atolls and coral reefs scattered around its coastline. The mainland is divided by the Owen Stanley Range - a rugged central spine with peaks over 13,000 feet high. Great rivers begin their journey to the sea from these mountains. Below the mountain chain, fertile coastal plains, flooded delta regions and mangrove swamps exist alongside broad sandy beaches, sheltered bays and dense rainforest.
A thousand different cultures
CULTURE
The authentic culture of Papua New Guinea attracts visitors year-round to experience Sing Sings (cultural festivals) throughout the country. Through Sing Sings visitors can witness a variety of traditional customs from clans far and wide. Many travelers to Papua New Guinea also enjoy overnights in a local village or cruises and tours as a way of experiencing culture first hand.
Mount Hagen & Beyond
With over 700 tribes, a population of six million and a country with the same landmass as California, Papua New Guinea is the ideal destination for Cultural Festivals. Cultural Festivals (or Sing Sings) are opportunities for neighboring, and sometimes, warring tribes to share their dance, song and stories. While tourists are certainly welcome to these events, they are by no means the focal point or reason for the occasion.
Three festivals to explore further are the Mt Hagen Sing Sing, The Crocodile Festival, and for a more intimate and exclusive festival experience, the Wahgi Valley Sing Sing last year boasted 10-15 tourists.
Popular Cultural Events
May - PNG Coffee Festival & Trade Fair, Goroka
July - National Mask Festival, East New Britain
August - Mt. Hagan Show, Mt Hagan
September - Hiri Moale Festival, Port Moresby
Goroka Show, Goroka
October - Morobe Show, Lae
November - Canoe & Kundu Festival, Alotau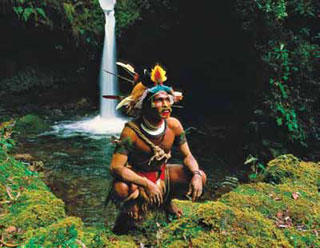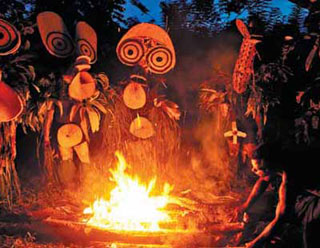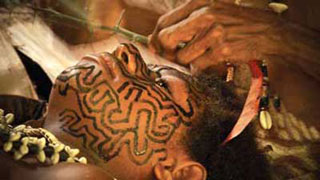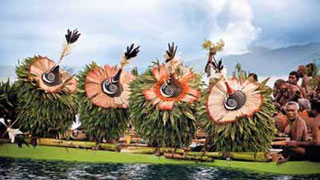 LANGUAGE
Although there are over 800 distinct languages in Papua New Guinea, English is widely spoken and is the official language of government and business. Pidgen English is also common and learning some phrases of this unique language is a fun addition to any traveler's visit.
CUISINE
Western cuisine is available in hotels, restaurants, guesthouses and lodges. Port Moresby in particular has many excellent Asian and European restaurants. Most hotels serve a variety of international and local cuisine utilizing fresh produce.
TOURING
It is recommended to travel PNG on an organized tour. Tour operators will offer wide varieties of programs to suit all kinds of interests and budgets — adding to any visitor's experience with their local knowledge and expertise.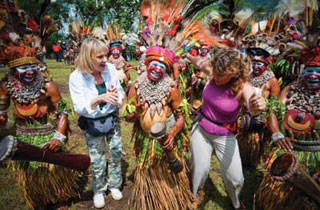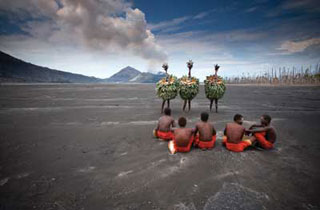 Photos and information courtesy of Papua New Guinea Tourism Promotion Authority