Home > Diving Malaysia > Malaysia Dive Resorts
Sipadan Water Village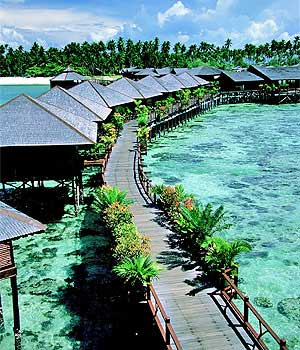 Sipadan Water Village is a resort beautifully constructed with Bajau architectural design. Part of the Mabul Island is also home to groups of Bajau fishermen who have built their traditional palm thatched houses.
The entire resort is built over water on stilts. In its design, Sipadan Water Village has achieved near utopia in its over-the-water layout, splendid water cottage accommodations with flowered sidewalks, wonderfully prepared Asian and Continental cuisine, and impeccable and personable service.
Accommodations
There are a total of 39 cottages -- 4 Grand Deluxe, 2 Deluxe, 27 Standard, and 6 Junior. These cottages are built on wooden stilts over the Celebes Sea. Each has a private sundeck and deck chairs. The cottages include ceiling fan, hairdryer, tea and coffee making facilities, and private shower with hot and cold water.
• Grand Deluxe Chalets: 2 Queen Beds, a Jacuzzi and mini bar.
• Deluxe Chalets: King Bed and bathtub with shower and mini bar.
• Standard Chalets: Twin beds or King bed
• Junior Chalets: Twin beds or King bed (located behind dive platform)

The resort provides 24-hour staff on call, airport transfers, babysitting services, resort Medical Services, a full-service Dive Center, foreign currency exchange, a resort mini-mart, and travel and tour desk. The main restaurant serves daily buffets for guest featuring a variety of Asian and Continental cusines. An open-air bar and lounge provides a breath taking sea-view, piped music and videos for guest entertainment.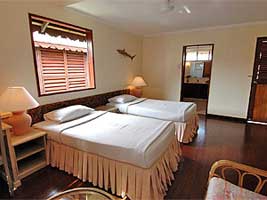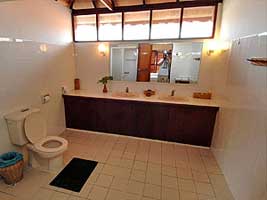 Junior Chalets

Standard Chalets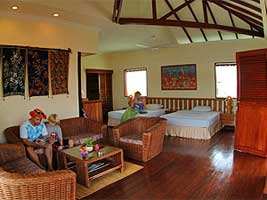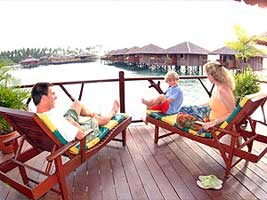 Grand Deluxe Chalets
Dive Centre
The Dive Centre is responsible for all in-water activities and scuba training and education. The centre opens from 0700hrs onwards and is equipped with lockers, showers, toilet and a common area for resting between dives with complimentary snack, hot coffee and tea. It carries 5 Bauer compressors for refilling tanks, over 300 aluminium 3000 psi / 80 cubic foot tanks with American style "K" valves, rental sets of scuba diving equipment that are mainly Scuba Pro.
The centre equipped with custom-built fibreglass dive boats that carry 12 passengers each. Each boat goes out 3 trips daily accompanied by a boatman and a Dive Master.
All Dive Masters are specially trained in the marine ecology of Mabul Island and will not only show divers the attractions but also impart their knowledge of the marine life so that guests may return from their memorable holiday with a better understanding of the environment.
This is what differentiated the Dive Masters at Sipadan Water Village from elsewhere: An attitude and passion for what Mabul has to offer.
Due to the fact that the marine life found around Mabul Island varies greatly from that of Sipadan Island, combination of the two islands for diving make a diver's diving holiday more complete. Mabul and Kapalai is heaven for studying the micro aspects of marine life and guarantees hours of fascinating fish watching with ample opportunities for photography. At world-renowned Sipadan Island, divers get different experience as one dive amongst the giants of sea and its only 20 minutes away from the comforts of Sipadan Water Village.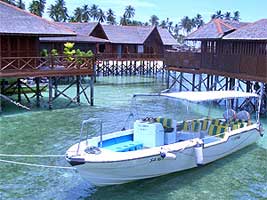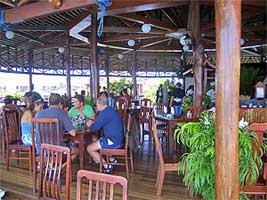 Mabul and Kapalai
There are about 17 dive sites in Mabul and about 13 dive sites in Kapalai. It takes less than 15 minutes to get from the resort to any of the Mabul dive sites by the dive boat and less than 15 minutes to Kapalai. Most of the diving in Mabul and Kapalai is very shallow with depths from 60 feet to as shallow as 10 feet. These places are "macro heaven on earth". On one given dive, divers may get to see as many as 25 or 30 remarkable photo subjects including squid, cuttlefish, anemone shrimp, gobies with blind cleaner shrimp, porcelain crabs, juvenile batfish, harlequin ghost pipefish, mushroom coral pipefish, mandarin fish, dragonets and many more.
Sipadan
There are about 13 dive sites in Sipadan. On a good sea condition, it takes about 20 minutes from Mabul to Sipadan. Most of the diving in Sipadan is combination of wall and drift diving. The walls are covered with hard corals, soft corals, gorgonians, sponges etc. You can see more turtles on one dive here than in a lifetime of diving anywhere else. Divers may also get to see huge resident school of barracudas, which make beautiful circling patterns on top of the reef, in 10 or 15 feet of water at the South Point.