Home > Diving Malaysia > Malaysia Dive Resorts
Borneo Divers Mabul Resort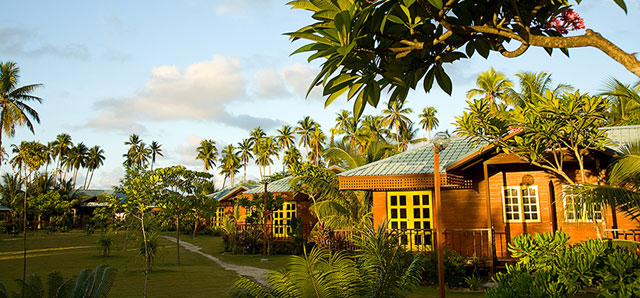 Located at the South Eastern coast of Sabah and about 20 minutes from Sipadan, 30-40 minutes (weather permitting) from Semporna, perched on the edge of the Continental Shelf lies the island of Mabul - rated as the "Mecca of Muck Diving".
Mabul is surrounded by Celebes Seas with white sandy beaches. While the luxury scenic on top is enhanced by the new Borneo Divers Mabul Resort (wholly owned and operated by Borneo Divers & Sea Sports (S) Sdn Bhd – pioneer in recreational diving tourism in Sabah and the Dive Resort management in Sipadan), the underwater at Mabul houses the most incredible marine habitats that even divers today continue to discover new stuff.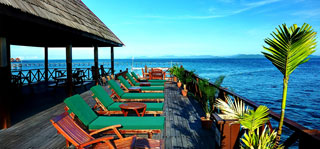 Accommodation
Borneo Divers Mabul Resort boost of 30 units of semi-detached room, each with twin-share/ double beds and private verandah overlooking at the Celebes Sea. Air-conditioned and with private hot/ cold shower and bathrooms, ceiling fan, dressing table and ample spaces. Deluxe rooms are available with coffee/ tea making facilities, hair dryer and local sarong. The resort also offer 5 units of comfortable tents with air-conditioned for the adventures diver.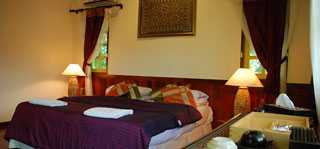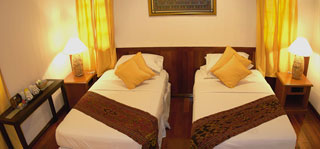 Facilities
1) Restaurant
2) Event Hall (100 paxs Theatre Setting)
3) Three (3) Bars
4) Recreational & Sport Facilities
5) Professional Underwater Video and Filming Center.
6) Full Service Dive Center
7) Library & TV room
8) FREE Wireless Internet Broadband Access
9) Swimming Pool
10) GAZEBO Beach Side Massage/ Manicure & Pedicure
Diving
Sipadan - Mabul - Tunku Abdul Rahman Marine Park - Mamutik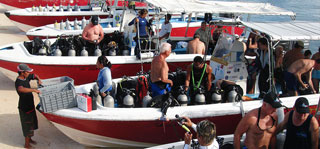 Here is a sample itinerary of a typical trip to Borneo Divers Mabul Resort. This is for general information only, the specifics of your trip may vary depending on changes in transportation schedules.
Proposed dive itinerary based on 5 days/ 4 nights
Day 01
Meet and greet by Borneo Divers staff at the hotel lobby for flight MH 2121 @ 0700/ 0745 hrs for Tawau or meet at Tawau Airport at 7:45 a.m. in the morning. Transfer to Semporna by van/ coach for approximately 1 ½ hours journey. Arrive in Semporna and proceed to Mabul Island by boat around 10:00 a.m. for approximately 45 minutes to 1 hour journey, depending on the sea or weather condition. Expected to arrive Mabul Island at 11:00 a.m. and proceed for briefing, registration and check-in. Lunch will be serving at noontime.
There will be 2 boat dives on your first day arrival and one of the boat dives will be an orientation dive with our Divemaster (Subject to 1st Schedule Arrival)
2nd Schedule Arrival – 2:20 p.m. from Tawau Airport to Semporna. From Semporna to Mabul Island will be at 4:00 p.m.
NOTE: For those arrive on the 2nd Schedule Arrival will not be able to do any diving on the arrival day. They will do 3 boat dives on the 2nd day, one of which the boat dive is the orientation dive.
Day 02, 03, 04
6 boat dives with our Professional Divemaster – Combination of Sipadan or Si Amil or Mantabuan or Kapalai Island.
3 boat dives with our Professional Divemaster - Mabul Island.
Total 9 Boat Dives with our Professional Divemaster
Unlimited Jetty House Reef Dive in Mabul Island
Diving in Sipadan is NOT guaranteed. Sipadan Entry Permit is based on APPROVAL from the Government Authority; in this case we are referring to SABAH PARKS and MKN (Majlis Keselamatan Negara).
Unlimited Jetty Buddy House Reef Dive is available at our new jetty. Please refer to the Terms and Conditions at the registration counter.
The above PROPOSED Dive Itinerary is based on the current Quota system. Should there be any changes of quota allotment; the Proposed Dive Itinerary will be amended accordingly.
The announcement of Sipadan Entry Permit Approval list is available 3 to 4 days before the actual diving date. THUS, the resort shall display the approval list (Namelist) 3 – 4 days ahead. Payment of Sipadan Entry Permit shall be made in the resort.
The management reserves the right to amend or change the above proposed itinerary without advance notice. (This is due to the change of allotment of permit should there be any)
* Sipadan Dives subject to Quota and Weather permitting. Diving at Sipadan may be anytime of the day.
Day 05
Free at leisure in the morning. Check-out.
We have two departures from Mabul to Semporna. First Schedule at 06:30 a.m. and Second Schedule is at 11:30 a.m.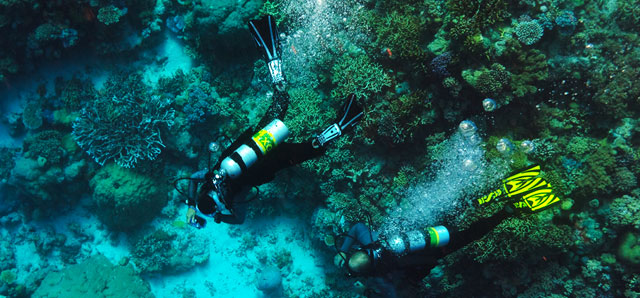 NOTE: Advisable no diving on the last day. However, if you wish to do so, you will have to sign a separate Liability/ Release Waiver form. The latest recommendation from DAN, Training Agencies, etc., indicate that you should wait a minimum of 18 hours and sometimes up to 24 hours after diving before you fly. However, Borneo Divers recognizes that people, agencies and even computers/ tables differ on this.
For those who do morning dive (one morning boat dive at MABUL ONLY) on day out. Please note Bar Bill must be settled the night before, all belongings must be cleared and checked out before the first morning boat dive.