Home > Diving Indonesia > Indonesia Liveaboards
KLM Pearl of Papua
Kararu's Liveaboard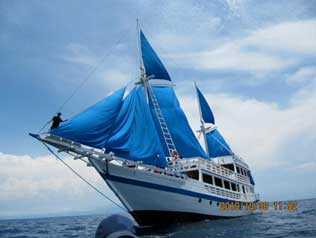 The KLM Pearl of Papua is one of Indonesia's newest, most practical and great-value Liveaboard vessels. Built in 2010 with safety, practicality and comfort in mind, the Pearl of Papua aims to be your sanctuary at sea with its cozy cabins and en-suite bathrooms, on board pampering, delicious and hearty meals, and overall hassle-free adventure.
Crafted by the highly respected and renowned boat builders of Tanah Beru in South Sulawesi, our beautiful wooden Phinisi schooner is fitted with the latest marine technology and equipments that are ensured to meet with international safety standards. Specifically designed for liveaboard diving cruises, the Pearl of Papua provides a huge dedicated dive-deck with gear-up stations assigned for each diver throughout the cruise. The KLM Pearl of Papua is our dedicated vessel for all scheduled cruises in Raja Ampat,Cenderawasih and Halmahera.
Indonesian 'Bugis Prahus', commonly known as Pinisi, are made from locally-grown timber (Ironwood & Teak amongst others) according to a tradition that dates back to long before Portuguese colonists reached the area. The classic beauty of the KLM Pearl of Papua combines this traditional craftsmanship with modern conveniences, providing our guests with luxurious comfort even in the remotest waters of Indonesia. The KLM Pearl of Papua offers GUARANTEED DEPARTURE and FREE NITROX for all cruises!
Vessel Specifications
The vessel has been specifically built and refitted to suit long range live aboard scuba diving expeditions and underwater photography. The ship is very fast and has a cruising speed of 7-9 knots to ensure swift travel.
Type: Phinisi Schooner
Hull: Ulin Wood (Iron Wood)
Gross Tonnage: 132 GT
Cruising Speed: 7-9 Knots
Length: 30 Meters (98 Feet)
Beam: 7.5 Meters (24 Feet)
Draft: 2 Meters (6.5 Feet)
Fuel Capacity: 6 Tons
Main Engine: 200 hp
Mitsubishi diesel
Generators: 2 x 40kw
Water Capacity: 10 Tons
Desalinator: 2 Tons/Day
Accommodation
4 x twin bed below deck standard cabins (8 pax)
1 x Deluxe suite (comes with 1 double and 1 single bed) Normally 2 pax but could put 3
1 x main deck double bed suite (2 pax)
1 x main deck twin bed suite (2 pax)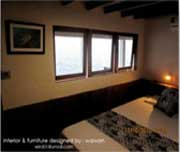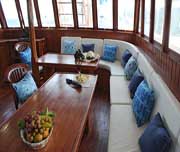 Dive Support Equipment
2 x Bauer Air Compressors
1 x Nitrox Unit
2 x Zodiac Dive Tender - 500 cm - 1 x 40 hp
1 x Glass fiber Dive Tender - 600 cm - 1 x 40 hp
1 x large dedicated dive-deck with aft dive platform
Safety Equipment
Inflatable Life Rafts
Life Jackets
Life Buoys
Smoke Detectors
Fire Hoses & Hydrants
C02 & Powder Fire Extinguishers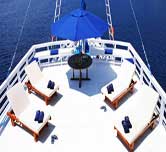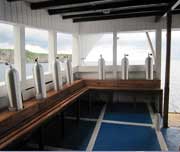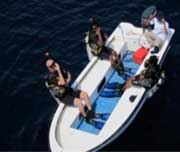 Navigation & Communication
1 x Chart Plotter with GPS
1 x Radar
1 x Echo Sounder
1 x VHF + 1 x SSB Radios
1 x Satellite Phone
Very importantly the liveaboard is comprehensively refitted during an annual dry docking at the beginning of the year plus regular maintenance is carried out throughout the year to ensure that the vessel is always seaworthy.