Home > Diving Galapagos > Galapagos Liveaboards
Deep Blue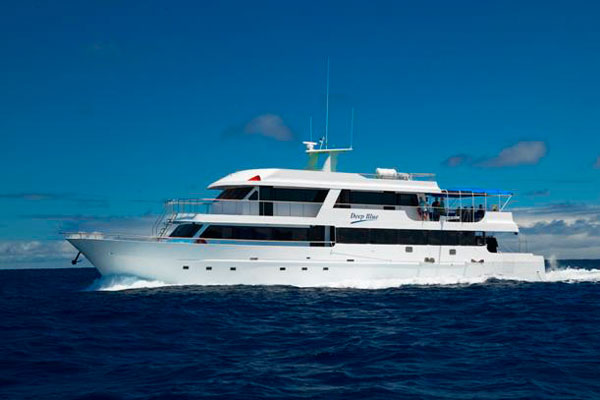 Built in 2002, the Deep Blue is one of the newest yachts sailing tour-deepblue-yachtthe Galapagos Islands. The Deep Blue accommodates 16 passengers and is divided into eight double cabins with lower beds, private bathroom and air conditioning.
With comfortable social areas, sun deck and salon, the Deep Blue provides a comfortable setting for you enjoy an unforgettable Galapagos experience.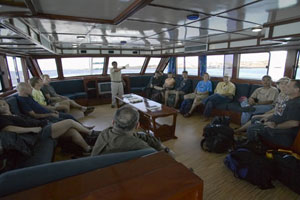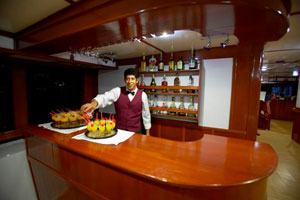 It is a large, comfortable vessel with spacious cabins and plenty of space for 16 divers (although, it can accomodate 18). Underwater photographers will be happy, as there are two camera tables and a huge rinse tank.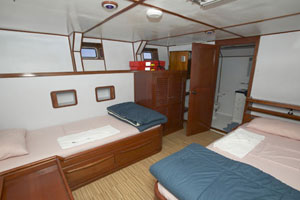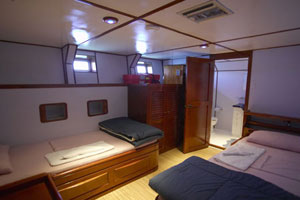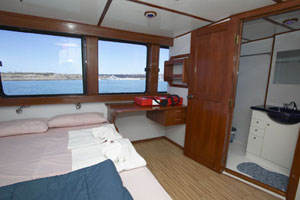 Yatch Information
The Deep Blue Galapagos Yacht is a first class Galapagos Cruise. The services included Live aboards Scuba Diving activities and other options to make your Galapagos Vacation a unique experience.
Technical Specification for Deep Blue Galapagos Yacht:
First Class
Capacity 16 passengers
Iron Made
9 double cabins (1 suite)
Lower beds
Air conditioning
Hot water
Private Bathroom
Living room
Library
TV / VHS
Speed 12.5 knots
Length: 106 FT.
Beam. 24.45 FT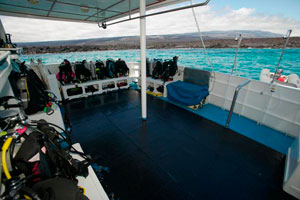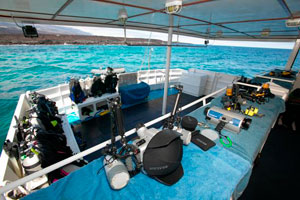 Deep Blue Galapagos Land and Diving Itinerary
| | |
| --- | --- |
| MONDAY: | |
| | PM: Cristobal - PM: Isla Lobos Check Out Dive |
| TUESDAY: | AM: Punta Carrión |
| | PM: Punta Carrión |
| WEDNESDAY: | AM: Darwin 2 Dives |
| | PM: Darwin 1 Dive |
| THURSDAY: | AM: Darwin 2 Dives |
| | PM: Darwin 1 Dive |
| FRIDAY: | AM: Wolf 2 Dives |
| | PM: Wolf 1 Dive |
| SATURDAY: | AM: Vicente Roca 2 Dives |
| | PM: Vicente Roca 1 Dive |
| SUNDAY: | AM: Rocas Cousin 2 Dives |
| | PM: El Chato - Charles Darwin Station Land visit |
| MONDAY: | AM: Land Visit to Interpretation Center San Cristobal Departure |