Diving British Columbia Onboard The Nautilus Swell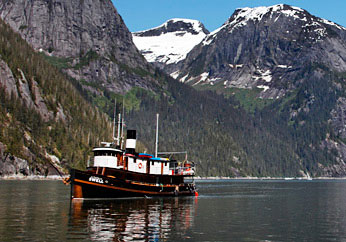 B.C. diving offers some of the best cold water diving in the world. Incredible colour. Amazing diversity of life. Giant pacific octopus. Wolf-eels. Nudibranchs galore. Giant kelp forests. Vertical walls so densely covered in life that there isn't even a square inch in which you can touch the wall. It's no wonder that this was ranked as the best diving in the North America 3 years in a row by Rodale's. This is heaven for those who appreciate and enjoy the challenge of dry-suit diving.
Your Trip
Most B.C. trips are 8 days // 7 nights. Dives are planned around the slack tides which usually limits us to 3 dives per day plus the odd night dive.. Diving and itinerary is subject to the Captain's discretion but you can bet that we will do our absolute best to maximize your satisfaction.
Here is a sample itinerary of a 7 night trip.
Day 1: Evening board in Port Hardy. Depart for Shushartie Bay
Day 2: Shushartie Bay and reposition to Browning Pass late afternoon
Day 3: Browning Pass
Day 4: Deserter Group
Day 5: Seymour Inlet and Nakwakto (depending on tides and group experience)
Day 6: Stubbs Island
Day 7: Pearse Islands
Day 8: Disembark in Port Hardy in AM

Please note: Hakai Pass, Smith Inlet, Queen Charlotte Islands, Transpac or Campbell River are available by request on a whole boat charter.
How To Get Here
Trips typically board in Port Hardy at the north end of Vancouver Island. Gateway cities are Vancouver, Victoria or Seattle with connection by ferry or local air carrier. Term car rentals are very affordable and highly recommended especially for those with a bit of time and the desire to explore Vancouver Island on the way to Port Hardy. Andy and Virginia Lamb at Cedar Beach Resort offer a wonderful pre-trip add-on package to get familiarized with diving in British Columbia. The Swell will be available for boarding at 6:00pm on day of departure and returns to Port Hardy at 8 a.m. on the last day of your adventure.
About The Nautilus Swell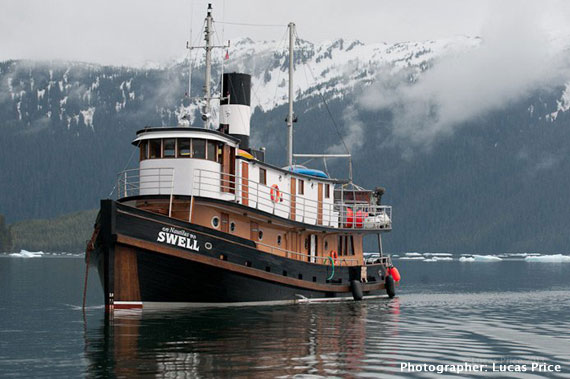 The Nautilus Swell has enjoyed a romantic and varied history having been in active service as a tug, a fishing charter boat and liveaboard dive vessel in all parts of the Pacific North West. Tried and tested she has been completely refitted and renovated three times. Most recently, she underwent a $3.5 million dollar refit in 2005 to bring her up to the high standard of modern liveaboard comfort and safety without losing the classic warm feeling of a vintage wooden vessel. She is at home in the waters of BC and Alaska and we are sure she will make you feel at home too, the moment you step onboard.
The Diving
Diving from The Nautilus Swell couldn't be easier. Our 38 foot dive skiff Inde, previously used for 24 divers on the Explorer, will now be used for only 12 - 14 divers on the Swell and is essentially the "dive deck", with loads of room for storage. Once your gear is set up on Inde, a single step down from the mothership, you won't have to touch it again for the rest of the trip. A large multi-level camera table, covered drysuit rack, work station, gear storage area, and sparkling clear hot tub are located one flight of stairs up from Inde.
Ship Accommodations
There are seven guest cabins all with ensuite heads and showers and individual temperature control.
2 superior suites on the main deck span the width of the superstructure with a door at EACH end of the cabin, portholes and bright light atmosphere. Just picture stepping outside in the morning with a cup of coffee in hand and sitting on the bulwark enjoying the beauty and stillness of Alaska. 1 superior cabin has 2 bunks. The other cabin has a 57" x 75.5" double bed.
There are 2 double staterooms on the hot-tub deck with bunks, a skylight, portholes and a door that opens directly outside. Both have private ensuites with very large heads and a shower.
There are also 2 single occupancy staterooms on the same deck that are very similar to the double staterooms (bunk style) except that the heads are slightly smaller. These cabins are available as a double if requested. The "Captain's Cabin" is at the forward end of this deck and accessible through the large, comfortable wheelhouse (where you are welcome to hang out). This cabin has the added bonus of being able to step out into the wheelhouse and enjoy the panoramic view. It has a 54.5" x 75" double bed.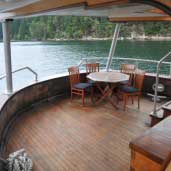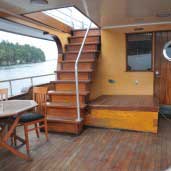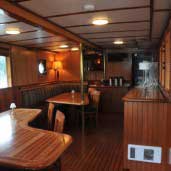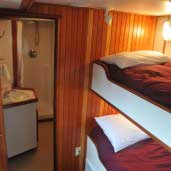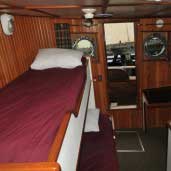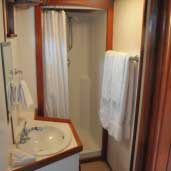 The Galley
The Nautilus Swell's modern galley is fully equipped as a commercial kitchen to allow our chef to produce the imaginative and fresh cuisine we are known for. Soups are homemade; bread, pastries and deserts are baked onboard and there is always lots to eat with up to 4 meals a day, a choice of entrees and plenty of snacks (including some that aren't good for you!). We offer a mix of both buffet and table service with a menu that combines North American and European tastes and also a touch of Mexico. We are happy to accommodate almost all special dietary requests - including vegetarian, vegan and all religious requests - as long as we have advance notice.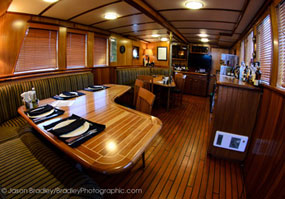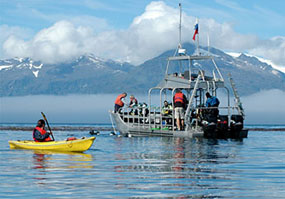 Specifications
Length: 90 feet
Width: 22 feet
Draft: 11 feet
Displacement tonnage : 170 tons
Gross Tonage: 130 t
Net Tonage: 39 t
Engine: Detroit Diesel 12V149 800 Horsepower
Crusing Speed: 10 - 12 knots
AC Generators: 2 x 24 hours per day.
Watermaker : 3600 gallons per day.